How to Wear a Suit in a Heatwave
It has been a hot couple of weeks.
With temperatures consistently soaring to nearly 30 degrees, men across the country have been sweating through their shirts, whilst attempting to get on with business as usual.
It is a well-known fact that as the temperature rises, us Brits have a hard time knowing how to dress for work. All sartorial rules go out of the window, and we find ourselves in a hot and sweaty mess.
Rather than boiling in your winter suit, or worse, resorting to shorts and flip flops, make sure you take our advice on keeping cool when the next heatwave hits.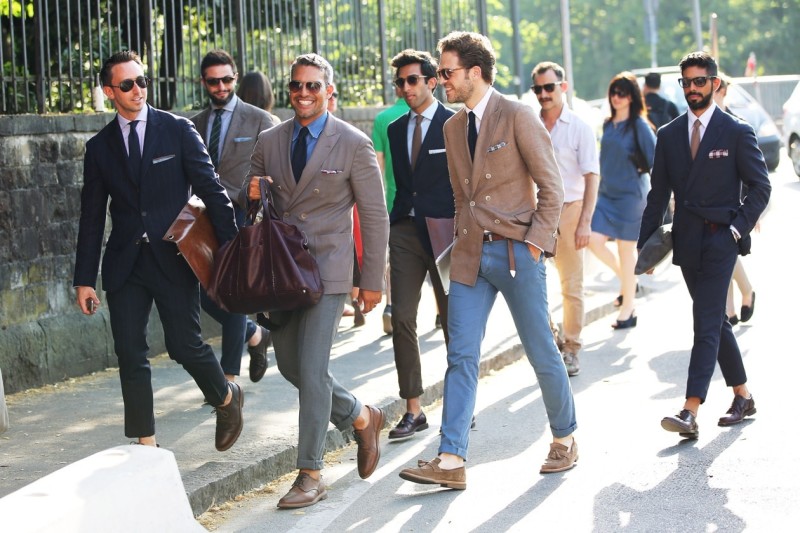 How to Dress for Work in a Heatwave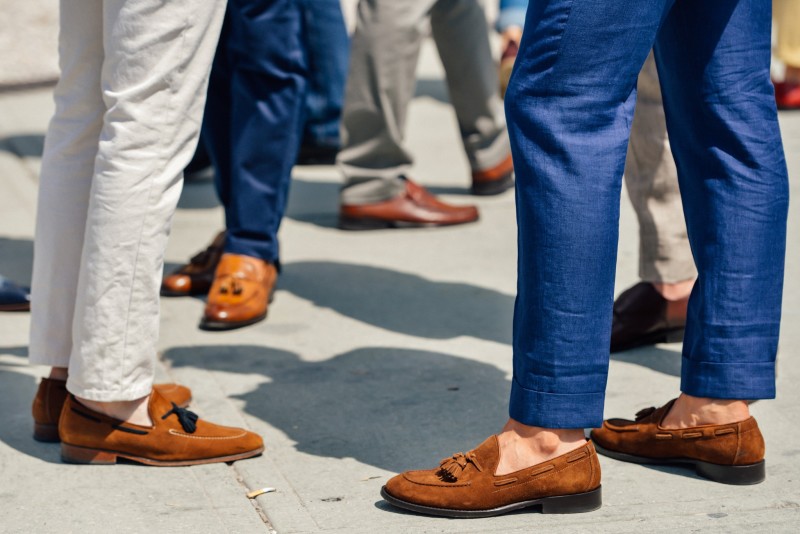 Show your Ankles
There is nothing worse than heavy, leather brogues on a hot, summer's day. I can feel my feet hurting, just thinking about it!
Instead, style your suit with a good quality pair of summer loafers, worn with some no-show socks. The look is effortlessly elegant, plus you'll feel much more comfortable with some fresh air around your ankles!
Bear in mind that this requires a slightly shorter trouser than usual, otherwise you might look like you forgot to put some socks on this morning!
Roll 'em Up
Rather than resorting to short-sleeved shirts, which can feel a little 'Business Casual' – not in a good way, just roll up your shirt sleeves.
It's a relaxed look that will keep you comfortable on a hot day in the office. If you're worried about unsightly sweat marks, stick to very light colours.
If you absolutely must wear a short-sleeved shirt, make sure it fits properly across the shoulders and body. The shirt must be neither tight nor baggy, and in a work-appropriate fabric. Please, no novelty prints!
If fit is an issue for you, off-the-peg, get in touch with us regarding our bespoke shirts. Starting at £110, they're great value.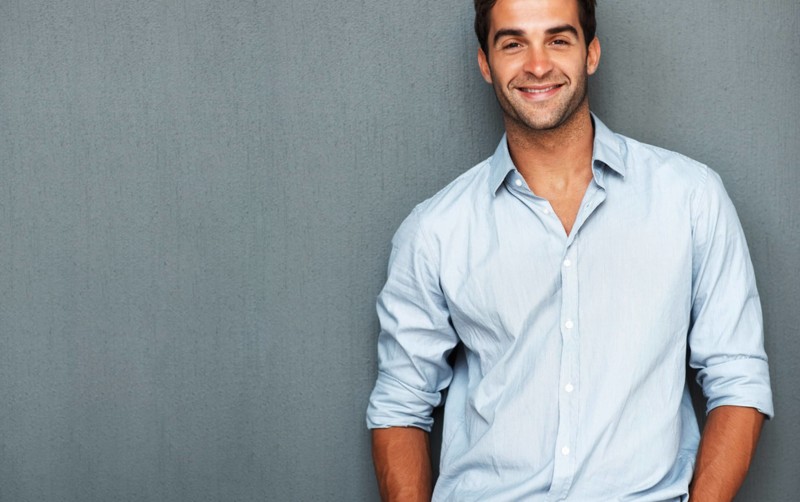 Wear a Half-Lined Jacket
If you find that you get very hot, even in a lightweight suit, you might want to wear a half-lined jacket.
From the outside, it looks like a regular jacket, however in terms of breatheability, it is much more comfortable to wear in hot weather.
This option is preferable to an entirely un-lined jacket, as it can catch on your shirt, plus it's more likely to wear through without any kind of lining.
We offer the option of a half-lining to your jacket, at no extra cost.
Wear Suits in Light Colours
If you paid attention in science class, you'll know that black absorbs light, whilst white reflects light.
This lesson applies to the colours we choose to wear in the summer. You are more likely to feel hot in a dark suit than you are in a light colour suit, such as pale blue, grey or tan.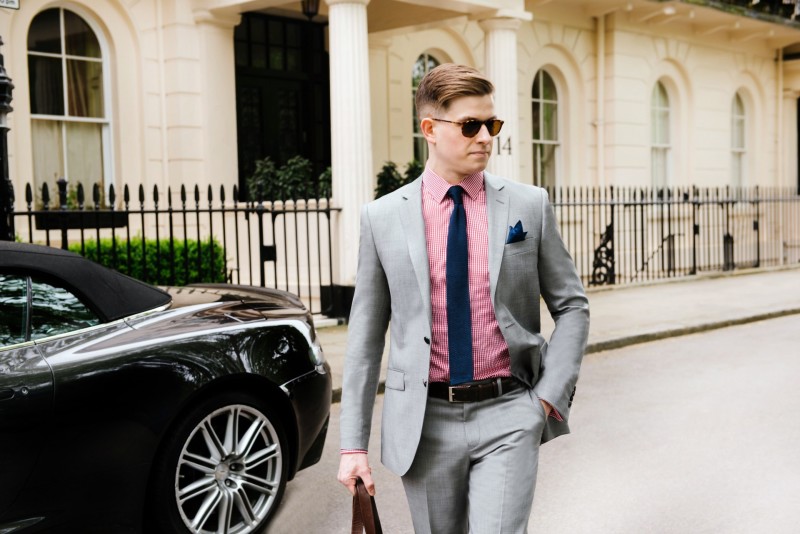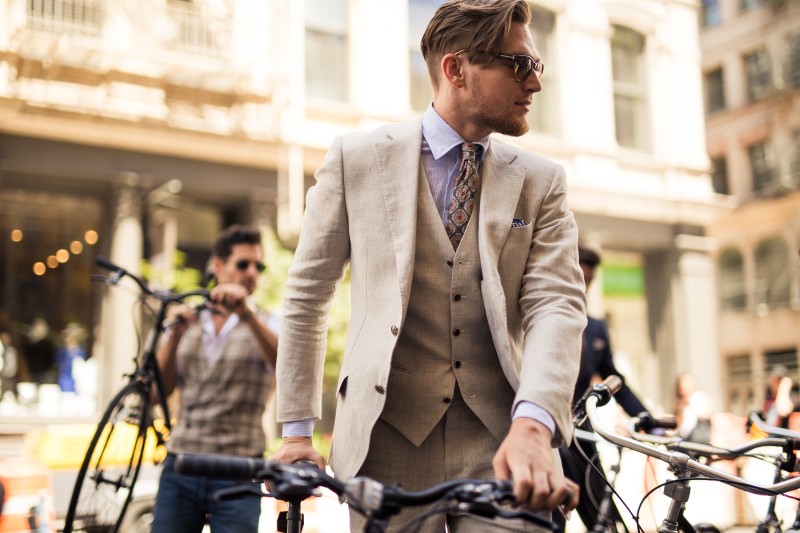 Choose a Lightweight Cloth
When a heatwave hits, you can't simply rely upon your trusted mid-weight suit that you wear year-round in the office. This is not the time for that!
Instead, opt for a suit in a lightweight, summer cloth. More than likely, you immediately thought, 'Linen.' Yes, linen makes a beautiful summer suit (and it's extremely 'now'), however not everyone likes the creasing that inevitably comes with a linen suit.
If you want to stay cool, but avoid creasing, a lightweight worsted wool or mohair will fare better, particularly in a rounded yarn, such as Holland & Sherry's Cape Horn High Twist Lightweight (pictured below.)
To explore more fabric options on summer work suits, make sure you find out more about our bespoke business suits.
Cloths King & Allen Use to Keep you Cool in the Heat

11 December 2020
As some of you may know, we said a final farewell to our Wilmslow store at the end of October after 11 fantastic years. We are delighted to announce we have just reopened our new store just down the road in Knutsford!
King & Allen News

04 December 2020
We are delighted to announce the launch of our new online store. Our shop offers clients a range of accessories to complement their sartorial lifestyles. From stylish pocket squares, to cufflinks and tie clips, to more practical suit care and face masks, you can browse at your leisure.
Style Tips & Advice
Accessories
King & Allen News

22 October 2020
At King & Allen, we are always looking for new ways to break new ground, grow and bring the best possible service to our clients. A big part of that is making sure that we keep up-to-date on the very latest styles, trends and fabrics, as well as innovating ways to improve our service and our standards. That's why we're so excited to announce our new fabric range, made from recycled bottles!
Style Tips & Advice
King & Allen News
Vegan