Style Predictions 2016. Part 1
Now in its 5th year, the King & Allen style predictions have become as much of a January fixture as failed diets and feigned sobriety. Sometimes we get it right (we predicted waistcoats and slimmer trousers back in 2009), and sometimes we get it horribly wrong (2015's floral explosion never quite happened!), but either way it's always worth having a think about what the menswear world might be doing before you make your first suit purchase of the year…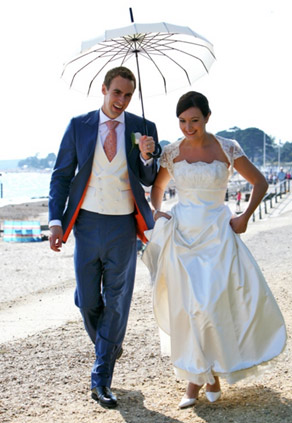 1. Double breasted waistcoats – especially for weddings. Both Adam (King) & Jake (Allen) wore double breasted waistcoats at their own weddings. Exceptionally elegant, with a nod to Edwardian morning attire, the DB waistcoat will turn any two piece into a sartorial masterpiece.
2. Short scarves, worn untied. The key to wearing this scarf is the length. If it's too long it will hang below the jacket and look terrible. The scarf should act as a thin border, just to add an extra layer to the look (see picture). For the understated, we recommend a compliment: eg: grey check on a plain blue suit, or plain blue on grey Prince of Wales check. For the brave, opt for silk rather than wool – in a paisley or similarly bold pattern.
3. Traditional trouser width and jacket length. Thankfully, the skinny trouser madness finally ended in 2015. Similarly, the trend for short jackets also seems to have waned. Perhaps the death knell was Daniel Craig's terrible suits in Spectre, but we are delighted to see a return to practical, classic tailoring cuts.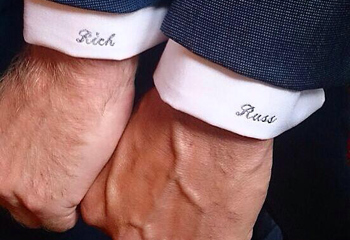 26 May 2022
Planning for your wedding can be a stressful time for some and the day itself often passes in a blur of joy and excitement. That's why it's important to 'stop and smell the roses' during your wedding journey and remember all of the reasons you've chosen to marry the love of your life. After the event itself, there are a plethora of ways you can look back fondly on the day, from the photos, to the video, to the signatures in the guest book. But did you know that your wedding suit can also serve as a reminder of the best day of your life? Read on to find out how...
Weddings
26 May 2022
2022 is a very special year for Pride, as it marks 50 years since the first ever march in 1972. While there were only 700 bravely marching then, this year it is expected there will be over 2 million attendees! Of course, many historical milestones have been achieved since 1972.
Style Tips & Advice
Style History
26 May 2022
Next week, the whole world will be watching as we celebrate 70 years with Queen Elizabeth II on the throne! The Queen has created quite the signature fashion lookbook that deserves its own jubilee. Her style has, quite literally, stood the test of time. Through nine decades, with her vibrant pant-suits and matching hats, stunning heirloom brooches - not to mention the symbolism behind every ensemble - it's no wonder the Queen is our style icon.
Style History