When King & Allen made Lucy Spraggan her Wedding Suit
When former X Factor contestant, Lucy Spraggan, came to us for her wedding suit, we knew we would be creating something truly unique.
Lucy and her fiancé had been to a few different tailors in the lead up to their wedding but never felt confident that they would produce what they were imagining. She was looking for something that was true to her own personal style and didn't want a generic, plain women's suit. She came into our Wilmslow store, with her fiancé, Georgina Gordon, and instantly knew that Karl, her tailoring consultant, would be able to create the wedding suit she dreamed of.
In this interview, we talk to Lucy Spraggan about her experience of having a bespoke women's suit made for her wedding.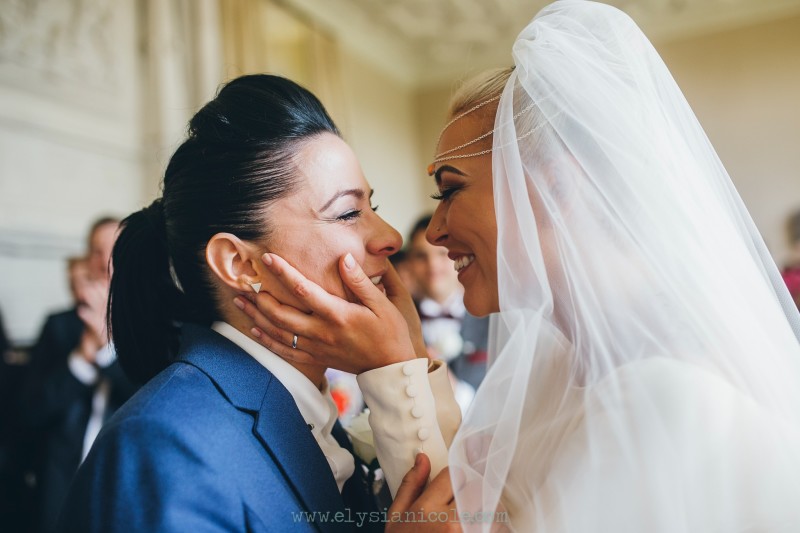 Lucy Spraggan's Wedding Suit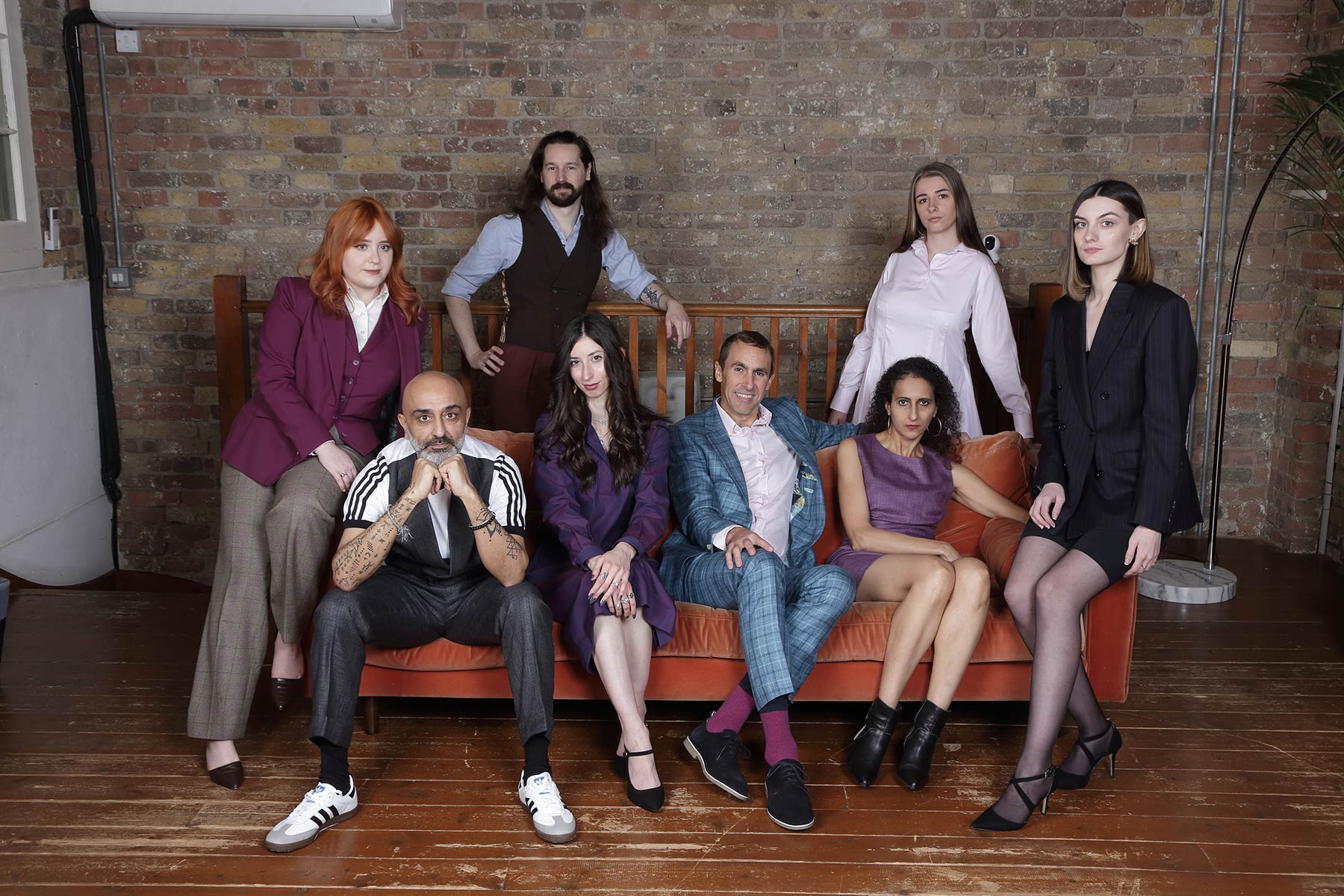 Lucy! It is wonderful to have you here on the King & Allen blog. Could you tell our readers a little about yourself, in case they don't know you already?
I'm a singer-songwriter, based in Northern England. I play the guitar (and some other instruments rather badly) and write songs about your everyday life topics. I tour a lot and release records every year or so and its lots of fun! Oh, and I love suits.
And you're a married lady now – your wedding day looked like so much fun! Could you tell us about it?
It was amazing. I had the best day. We had a bucking bronco, a beetle juice VW bar, a tattooist (I know…) a white taxi cab that was actually a photobooth, and so much more.
The ceremony and the day itself was absolutely perfect; I think there was just the right balance between seriousness and a big ol' party with lots of great people around.
My wife wore an Elizabeth Stuart long sleeved, opened-backed traditional gown and I'm not sure I've ever cried as much as when I saw her wearing it.
Did you have much involvement in the planning of the wedding or did you leave it up to your other half?
I am not much of a planner; I think most creative people lack whatever part of the brain that helps them to organise, but on this occasion, I totally changed my ways!
I initially didn't give much thought to it, but as the days progressed and I noticed that my other half wasn't REALLY on top of it all, I totally sprang into action. I ended up doing probably 90% of the planning, but she made it look wonderful with all of her decorations and ideas. Teamwork, eh?
You chose King & Allen to make your wedding suit (excellent choice!) – what was the experience of getting a bespoke suit like?
When I first walked into King and Allen, I knew that it was the place for me. There's a real elegance to the way that the whole shop is run.
Karl Lewis was so great at drawing out ideas, inspired by pictures of suits I liked the look of. We took our time and Karl was really open and honest about what he thought would work and what wouldn't, which I feel is a very important part of the consultation.
The whole thing was so much fun. It feels like Christmas when you have that final fitting and walk away, knowing that your suit is coming home with you. There is so much effort put into having a bespoke suit made, which really makes you respect the garment. Achieving that perfect fit and classy look is something you can't find on the peg. It is rather addictive, though – don't say I didn't warn you!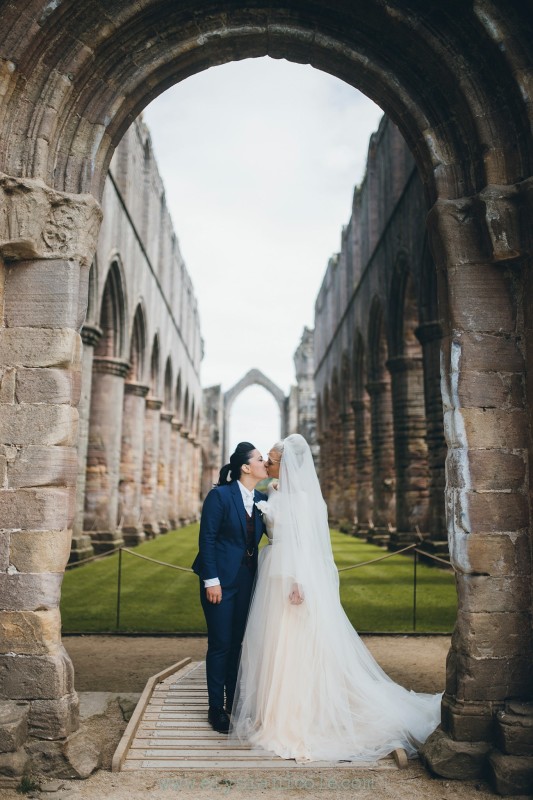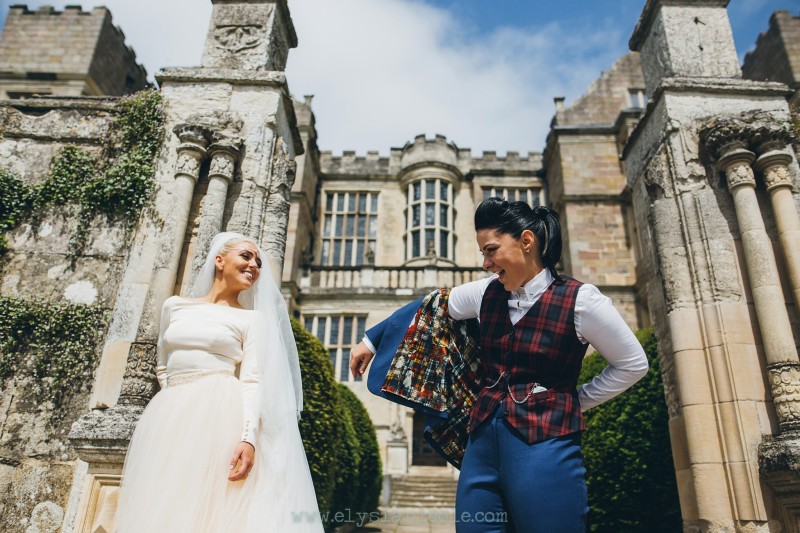 We absolutely loved your suit! The contrasting tartan waistcoat was a fantastic touch too.
Why thank you! The tartan was added as I have Scottish roots. I loved having something so personal included, such as the lining which featured more tartan and taxidermy heads. I collect taxidermy so it was such a fun addition.
What would you tell other women wanting to have a bespoke suit made for their wedding?
I would say absolutely go for it. You'll only do it once and it is so important to feel the best you have ever felt. I honestly felt that way wearing a King & Allen suit. To have a two or three piece that you can wear again and again (even mixing and matching) is something my wife cannot do with her dress… Maybe once a year for Halloween! In all seriousness, a bespoke suit is the ultimate treat to yourself. The comments from your friends and family will speak volumes.
Thank You, Lucy!
Thank you, Lucy, for sharing your experiences with us on the King & Allen blog. Your wedding looked like a truly wonderful day, and we were honoured to be part of it.
If you, like Lucy, are struggling to find bespoke women's wedding suits that are a true reflection of your personal style, get in touch. It would be our pleasure to speak with you about your ideas and make something that makes you feel at your very best. All you need to do is book a free consultation.
Wedding photo credit: Elysia Photographer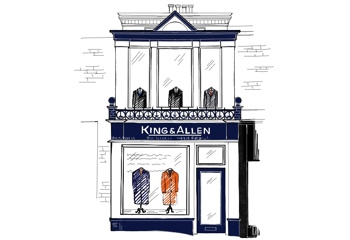 26 May 2020
Following the announcement by the Prime Minister on the 25th May, we will be reopening our Surbiton, Liverpool Street and Wilmslow stores on the 16th June.
King & Allen News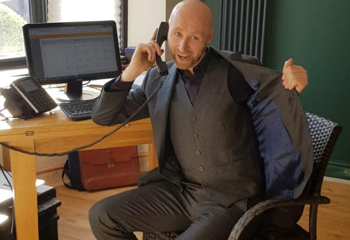 15 May 2020
We've put  together a brief guide and some resources for what to do once you've decided on a new date for your big day.
Style Tips & Advice
Weddings
14 May 2020
While we look forward to re-opening and helping you all find your fit for your special day, we also thought it might bring a smile to our follower's faces to see how some people have kept their lockdown weddings and celebrations going.
Style Tips & Advice
Weddings