The James Bond Guide to Black Tie
Have you ever looked at James Bond in a dinner suit and wondered, "Why don't I look like that in a DJ?"
Well, if you're like most men who get unexpectedly invited to a black tie event, you probably head to the formalwear hire shop to rent an ill-fitting, synthetic dinner suit or throw on a black suit and be done with it. So, that might be why!
But there are so many reasons why you shouldn't do this; not only because it looks extremely sloppy.
More than anything, renting a dinner suit is a false economy. When well-looked after, a well-fitting dinner suit of your own will pay for itself simply because it is such a timeless piece that you will be able to wear for a lifetime.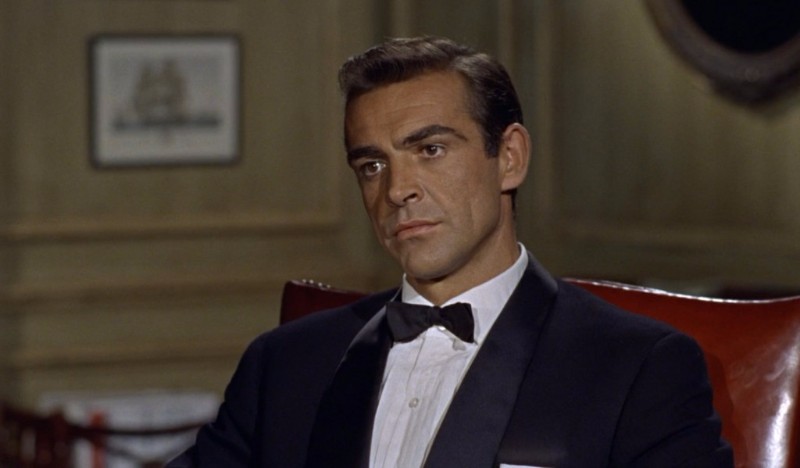 James Bond's Dinner Suits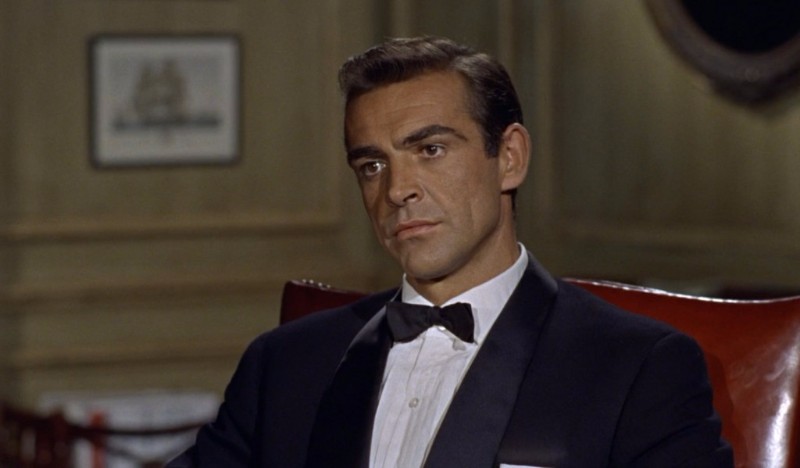 Sean Connery in Dr No
When dressing for black tie, the temptation is to wear a black suit, however, midnight blue is actually more historically accurate.
Since black tie should only be worn in the evening, the likelihood is that you will be wearing this suit indoors under artificial lighting. Midnight blue looks much richer and darker than black in these circumstances.
In Dr No, Sean Connery can be seen wearing an extremely elegant, midnight blue dinner suit with a matching shawl lapel. Not pictures is the fabulous gauntlet cuff on the sleeves – a lovely, unusual touch that makes this suit even more special.
Sean Connery in Goldfinger
A white dinner jacket is not for everyone. In fact, some might say that only James Bond can pull one off these days, however, we would disagree on that. Regardless, this is a bold look that takes confidence.
If you would like to wear a white dinner jacket, we suggest that you keep the rest of the style very simple.
Note that Sean Connery is wearing a peak lapel, rather than a shawl lapel, which is traditionally worn on white dinner jackets. The remainder of the jacket is very traditional: a single mother of pearl button fastening and no vent at the back of the jacket.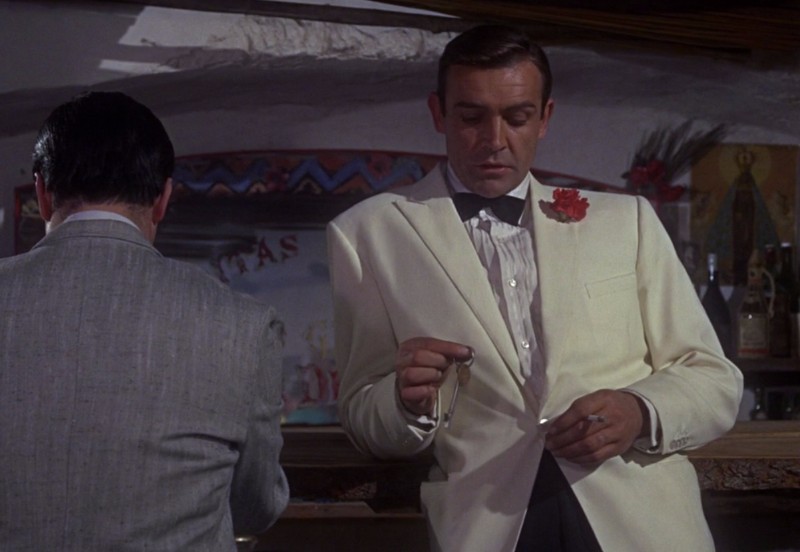 Sean Connery in Diamonds are Forever
Velvet dinner jackets are making a bit of a comeback at the moment, reminiscent of old-school smoking jackets. These should only ever be worn as jackets – no one should ever wear a full velvet suit, particularly for black tie.
In Diamonds are Forever, Sean Connery can be found in a stunning navy velvet dinner jacket. The style is similar to his other dinner jackets, with a one button fastening, double vents and slanted pockets with flaps. He wears it with simple black trousers with a satin braid down the leg.
Roger Moore in The Spy who Loved Me
The double-breasted dinner suit is a slightly more unusual style than the single-breasted. The main thing to remember is that you must keep the jacket buttoned up, whether seated or standing because the jacket will hang unpleasantly when unbuttoned.
In The Spy who Loved Me, Roger Moore wears a lovely midnight blue, double-breasted jacket in the popular 6×2 button style. It has a roped shoulder, a neat waist and rather wide lapels that work well in this style of jacket. All of the facings are in contrasting black satin.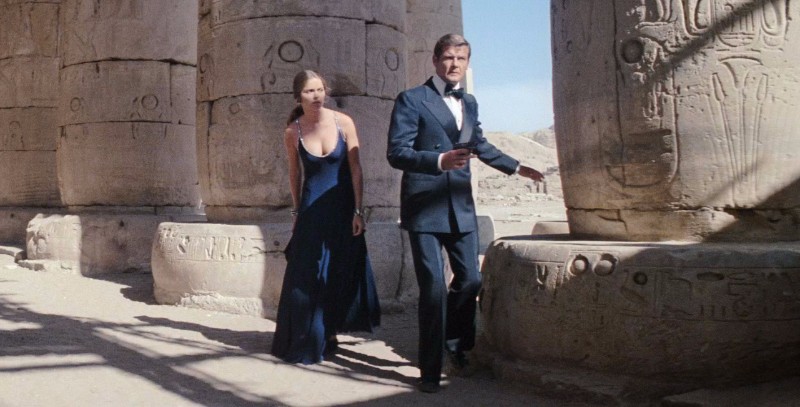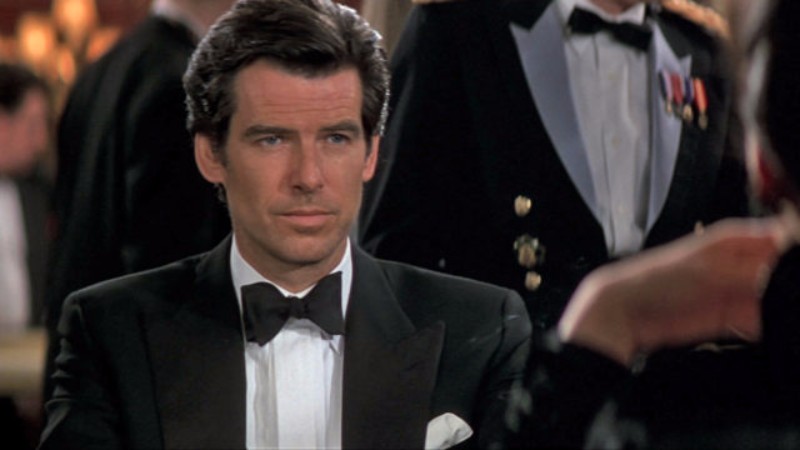 Pierce Brosnan in GoldenEye
It is traditional to wear a waist covering with a dinner suit, whether that's a silk cummerbund or a formal waistcoat. The purpose of this is to entirely cover the waistband to prevent any shirt from showing. Some people see this as an opportunity to bring in some colour, however, we recommend that you follow tradition by wearing these in black.
Controversially, James Bond is often seen without a waist covering. However, in GoldenEye, Bond wears a waistcoat with black tie for the first time. It's low-cut with 4 buttons and silk satin shawl lapels.
Daniel Craig in Casino Royale
The beauty of black tie is that it is timeless. A traditional dinner jacket fastens with one button and is unvented with jetted pockets. The lapels are faced with silk satin or, even more elegant: silk grosgrain, with matching buttons and braiding on the trousers.
This black dinner suit, worn by Bond in Casino Royale, follows this formula, yet adds a subtle modern twist by going slightly narrower on the lapels. The jacket also features a roped shoulder: a lovely bespoke detail rarely seen these days.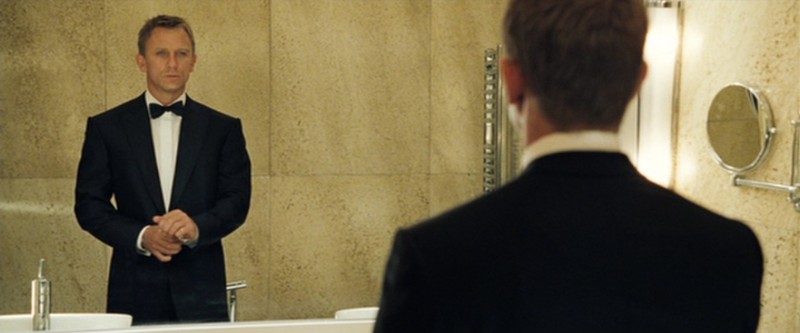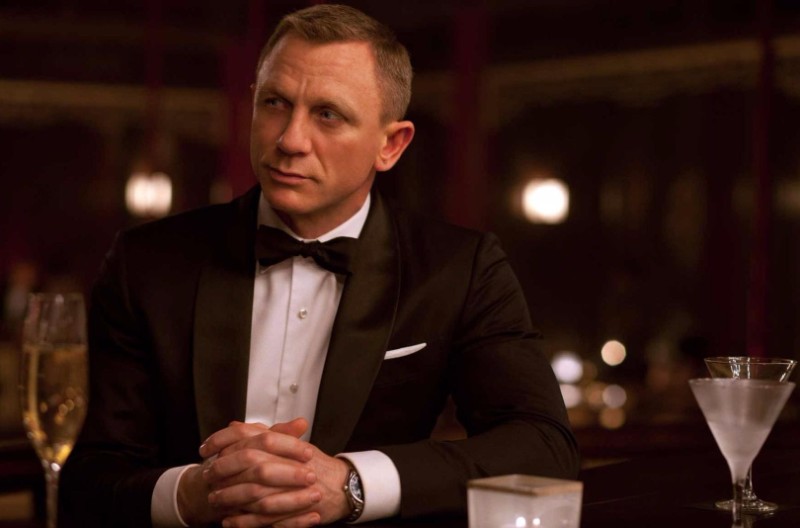 Daniel Craig in Skyfall
A shawl lapel, if done well, looks fabulous on a dinner jacket. Influenced by the smoking jacket, it has a softer, less angular look than a peak lapel. It is actually considered less formal than a peak lapel, however, it is rare that you would see this style of lapel on anything other than a dinner suit.
In Skyfall, Bond wears a midnight blue dinner suit with a silk satin shawl lapel and matching buttons and jet pockets. The style is mainly traditional, however, the jacket is far too short! Additionally, the jacket features a single, central vent at the back, which is a little bizarre. This is a feature that should never be worn on a formal jacket!
Unsure what to wear for your next black tie event? Learn from the master of black tie: James Bond
Want to look as good as Bond in a dinner suit?
If you need to step up your black tie game, we would love to help you. We make bespoke formalwear to fit you beautifully in high-quality cloth, sourced from our Savile Row cloth merchants.
Book a free, no-obligation consultation today, where one of our experts will talk you through the finer details of designing a bespoke dinner suit.
16 January 2020
What's not to love about a wedding in the country? It's quintessentially British (think Four Weddings) and it's the perfect way to embrace the great outdoors in a relaxed environment. No wonder so many of us are opting to tie the knot in a rural setting.
Style Tips & Advice
Weddings
Country Style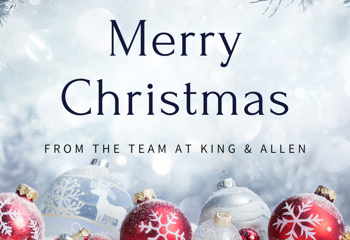 28 November 2019
To get you in the festive mood, we asked our four King & Allen consultants to tell us about their 2019 festive outfit (hint: they all involve a suit) and share their style tips for the perfect party mood...
Style Tips & Advice
King & Allen News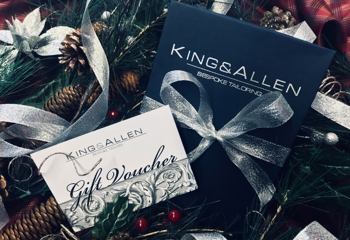 25 November 2019
It's been dubbed the Blue Planet effect - spurred on by Swedish teenage environmental activist Greta Thunberg and the rise of Extinction Rebellion. We are, of course, talking about growing consumer concern about issues such as single-use plastic and climate change...
Style Tips & Advice
Accessories
King & Allen News