Icon of the Month – Paul Weller
For over 40 years, Paul Weller has encapsulated the marriage between style and music. Having formed two of the most influential bands of their respective eras – The Jam (1976-1982) and The Style Council (1983-1989), he went out on his own and last year released his 12th solo album.
From the very early days of his career, Weller's style has been as iconic as his music – and the two are heavily interwoven:
I was immersed in the mod thing, and I thought: "The band should look like this as well."
Affectionately nicknamed The Modfather since 1990, Weller has almost single-headedly kept the mod flame alight, with his notoriously sharp, fitted tailoring. Weller is a suit aficionado and is rarely seen out of one, with a particular penchant for double breasted cuts and pin-stripes, as well as classic mohairs from the mod era.
Often combining traditional cuts with bold fabrics and bright colourful shirts, he is a fantastic sartorial role model for any K&A customers who refuse to grow old gracefully. And why the hell should you?
Below is a selection of our favourite Paul Weller suits from across the years:
Feeling inspired? Please do get in touch if you'd like us to recreate any of these looks for you.
26 September 2019
An increasing number of companies are adopting a less formal office dress code these days, with fewer businesses expecting their male employees to show up in a suit and tie. Instead, the new watchword is 'smart-casual'. But where does that leave the suit lover?
Style Tips & Advice
Business Style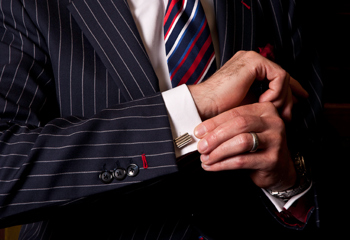 12 September 2019
The term 'pinstripe' refers to the very thin, parallel lines that run through a cloth, contrasting with the main colour. Taken at face value, it would seem to be a fairly bland description of a simple fabric pattern. But the history of the pinstripe suit is anything from bland and, indeed, the suit itself has a host of connotations attached to it.
Style Tips & Advice
Style History
27 August 2019
The new Peaky Blinders series is back with a bang and we're not just talking about the storylines. As ever, Tommy and his crew look as sharp as the razor blades the real-life Peaky Blinder gang were rumoured to stitch into the peak of their flat caps.
Style Tips & Advice
Celebrity Style
Style History