Icon of the Month – Derek Zoolander
Derek Zoolander: model, actor, philanthropist, but not an ambi-turner. In a lovely case of life imitating art, imitating life, the film's costume designer, Leesa Evans, has confessed that most of the clothes worn by the film's protagonists are existing pieces – or adapted from existing pieces – by designers such as Valentino, Kenzo and Yves Saint Laurent. But what about the man himself? It's difficult to comment on the style of a man who has never dressed himself, but his suits certainly are… eclectic. Often in The Stitch we like to offer advice for the King & Allen suit wearer on what we can learn from our chosen Icon. This month's takeaway should probably be: don't let anyone else dress you!
Below are some of DZ's more iconic suit choices:
Call 0800 0274430 or contact us here for more information about King & Allen. We have fitting locations in London: Liverpool St, Wilmslow and Surbiton. We also take consultations on Savile Row by appointment only.
26 September 2019
An increasing number of companies are adopting a less formal office dress code these days, with fewer businesses expecting their male employees to show up in a suit and tie. Instead, the new watchword is 'smart-casual'. But where does that leave the suit lover?
Style Tips & Advice
Business Style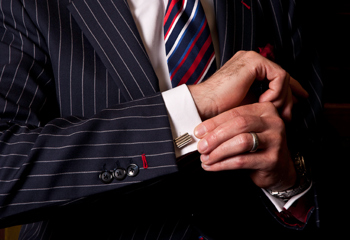 12 September 2019
The term 'pinstripe' refers to the very thin, parallel lines that run through a cloth, contrasting with the main colour. Taken at face value, it would seem to be a fairly bland description of a simple fabric pattern. But the history of the pinstripe suit is anything from bland and, indeed, the suit itself has a host of connotations attached to it.
Style Tips & Advice
Style History
27 August 2019
The new Peaky Blinders series is back with a bang and we're not just talking about the storylines. As ever, Tommy and his crew look as sharp as the razor blades the real-life Peaky Blinder gang were rumoured to stitch into the peak of their flat caps.
Style Tips & Advice
Celebrity Style
Style History