The King & Allen guide to Tweed
This week's guest blogger is Mary-Cait, who is a consultant at our Northern Tailoring centre in Wilmslow. Being so much closer to Scotland than us soft southerners, she is in a far better position to tell us about one the UK's most charismatic cloths – Tweed.
Tweed originated in the 18th century – created by Scottish weavers who yearned for a denser and heavier cloth in which to brave the Scottish wilds. In order to reflect tweed's environment, an earthy palette was created – with colours to match those found on 'the blasted heath'.
Tweed options continued to increase throughout the 19th century, and the hardy cloth became particularly popular among the Edwardian middle classes – who recognised it as the perfect complement to outdoor pursuits.
In the last few years Tweed has seen a huge surge in popularity. This is because the cloth has a unique blend of British heritage and excitement – in colour, pattern and texture.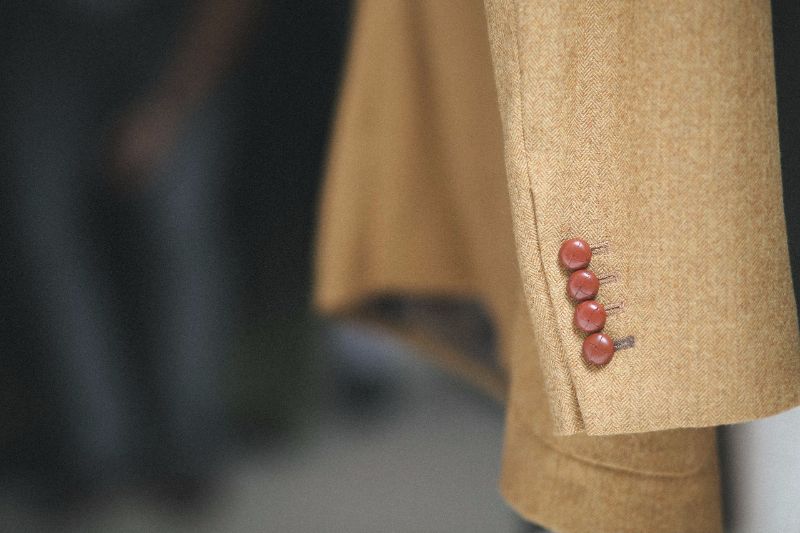 Classic British tailoring has great style, but it tends to be relatively conservative. Tweed has a hint of eccentricity to it which is extremely endearing.
This sense of fun has influenced cloths across a wide variety of weights. You can now buy summer and mid-weight suits that emulate tweed in both pattern and texture – to enjoy the look of the English country gent all the year round.
If you're interested in tweed, below is a sample of just some of the ranges we offer at King & Allen: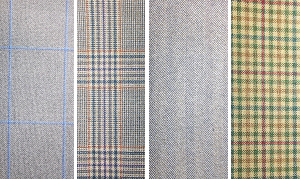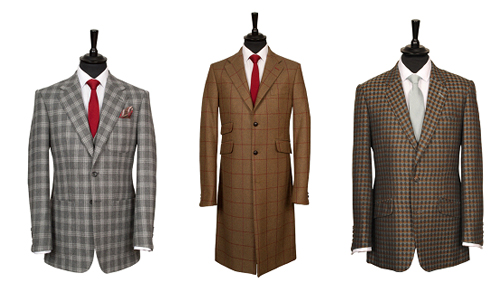 Highland Glen
The Highland Glen range is a traditional country suiting. It is woven from 100% worsted wool and is ideal for participating in moorland sports. This range is influenced by the need for camouflage on the moors, so there are hints of muted greens, heather purples and blues, earthy browns and granite greys. The challenging conditions of the Scottish moors really inspire the collection – as there is vast exposure to the elements of weather, and the ground is covered in gorse, brambles and bracken.
Sherry Tweed
Sherry Tweed derives from its origins of the 'Tweed Valley' on the Scottish boarder. The famous River Tweed flows through the valley and separates Scotland from England. The beauty of tweed comes from its magnificent colourings, which are achieved by mixing together several colours of pure new wool dyed fleece. Once the yarn becomes a woven fabric you can then see the intense vibrancy of the wool.
This collection expresses the appeal of the traditional cloth, whilst drawing on a more contemporary and modern palette. The fabric is durable, colourful and warm – perfect for the winter months.
Harris Tweed
Harris Tweed cloth is the most famous of all tweeds and originates from the beautiful remote islands of the Outer Hebrides of the west coast of Scotland. Harris Tweed prides itself on the use of local materials and hand crafted techniques. The beauty of the cloth itself comes from the fact that each yarn may have been blended from as many as 10 different shade components – which reflects the true landscape of the Isle of Harris.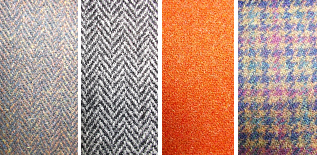 Peacock Tweed
Our Peacock collection is comprised of traditional yet bold designs. They are very fashionable and contemporary, and are suitable for the city or country. There are traditional houndstooths, glenchecks, windowpanes and herringbones through the collection – in a rich variety of colour.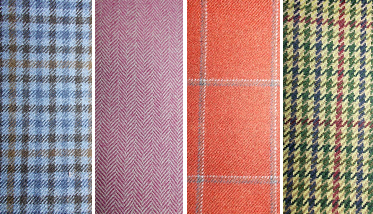 The fabrics have been woven from a 36/2nm worsted yarn, which means it has been constructed for strength and durability. A soft crush finish gives the fabric a warm look and handle, making it also very comfortable to wear.
Call 0800 0274430 or contact us here for more information. We have fitting locations in London: Liverpool St, and Wilmslow and Surbiton. We also take consultations on Savile Row, by appointment only.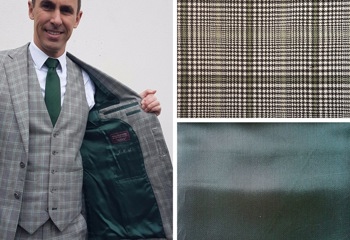 11 October 2021
The lining of the suit is often overlooked but, at King & Allen, this is often one of the most fun moments for our customers. 'The lining choice is a chance for you to show some flair,' says Jake Allen, 'even if your suit is quite plain, the lining can really liven it up and show off your individuality.' We've outlined some cloth and lining pairings below, to give you some inspiration for your next suit!
Style Tips & Advice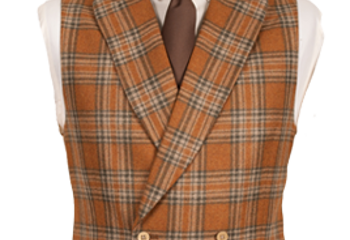 11 October 2021
Now the seasons have turned and autumn is in full swing, it's time to delve a little deeper into the upcoming trends of the next few months. Our linens and cottons are safely packed away and it's now the perfect opportunity to look at what additions we can add to the wardrobe to get us through the cold winter months.
Style Tips & Advice
11 October 2021
When Daniel Craig stepped out for the premiere of 'No Time to Die,' wearing a pink, double-breasted, velvet tuxedo jacket, it caused a sartorial moment that we haven't seen for some time. At King & Allen, we have been fans of the pink suit for a number of years, so we were over the moon to see James Bond himself embracing this vibrant and multi-faceted colour. Read on to see how you can incorporate more pink into your suit wardrobe and how to get the Daniel Craig look...
Style Tips & Advice
Weddings