The Suits from 'Kingsman'
January 2015 saw the release of Kingsman: The Secret Service. This action/comedy is about a fictional Savile Row tailor that secretly houses the headquarters of an elite spy force.
The story was inspired by director Matthew Vaughn's own experiences of buying a bespoke suit on Savile Row. During the process, he daydreamed about pulling on a hook on one of the walls, opening a secret door.
The heritage of the English gentleman spy extends way beyond Bond – to Tinker Tailor Soldier Spy (also starring Colin Firth), The Ipcress File (also starring Michael Caine!), The Avengers and The Saint. By focusing his plot on the quintessentially sartorial super-sleuth, Vaughn has seen an excellent opportunity to outfit his cast in some extremely sharp suits.
Kingsman Tailoring
What has most impressed us, here at King & Allen, is Vaughn's insistence that the cast is decked in double-breasted suits throughout the film – when the single breasted option is so much more popular (in the off-the-peg world, at least). Vaughn has pulled off this bold move with great aplomb, and as a result, the film is brimming with visual elegance.
Below, we break down a few of our favourite suits from Kingsman…
Our Favourite Suits from Kingsman: The Secret Service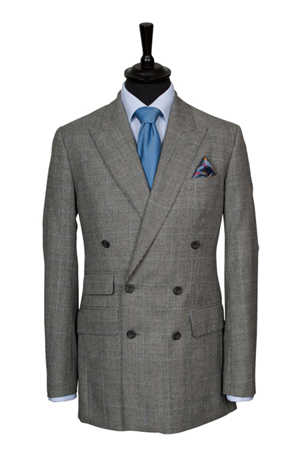 A suit, similar to the one Colin Firth wears in the film, 'The Kingsman,' made by King & Allen.
The Monochromatic Business Suit
The double-breasted suits in the film are predominantly 6×2. Colin Firth's suit, here, is a lovely example of a light grey worsted.
This is the most monochromatic of the suits from Kingsman. Simple and understated; this a lovely example of a simple, conservative business suit.
To the far left, you can see an example of a similar suit we have tailored.
The Self-Stripe Power Suit
Later, Colin Firth's character, Harry Hart, sports a much bolder combination: a broad self-stripe matched with a club tie.
This is a fantastic example of business power dressing. The double-breasted cut only serves to complement the sense of boardroom armour. Note that this suit has a boutonniere (buttonhole) on both lapels – a lovely bespoke touch.
here, you can see a similar one by King & Allen.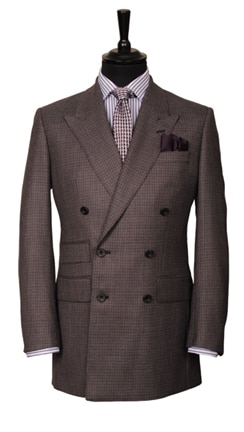 The Classic Dinner Suit
Onto eveningwear now, and above is a classic shawl lapel – paired with a splendid bow tie and white pocket square.
Below is a classic dinner jacket by King & Allen, similar to the one worn by Colin Firth.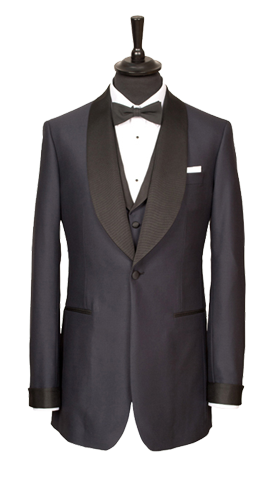 The Windowpane Check Suit
An actor who always cuts a dash both on and off screen is Michael Caine. His role as the head of the Kingsmen has allowed him to really stand out.
Here is the veteran actor looking resplendent in a grey double-breasted suit with yellow windowpane check.
Note the milled finish on the cloth – this is much more English way of finishing cloth.
Shakespeare once wrote "Clothes make the man" – and if a film were ever able to prove this adage it's Kingsman. The main protagonist of the film is 'Eggsy' (played by Taron Egerton) – a delinquent who Harry Hart's character takes under his wing.
The transformation is extraordinary, with the help of a splendid chalk strip, a classic club tie, a pair of glasses and an ice white pocket square.
Note the "roped sleeve head" – another nod to the traditional British bespoke suit.
Want to wear a Kingsman Suit?
King & Allen offer bespoke versions of all these suits, with no extra charge for double breasted, roped sleeve heads, double boutonnières or any of the extras you may have spotted.
27 June 2019
Music and fashion have always been inextricably linked, with many catwalk collections drawing inspiration from rock and pop stars over the years. Here, we take a look at four of our favourite music legends, each with their own signature style, but all of whom really knew how to rock a suit.
Style Tips & Advice
Celebrity Style
Style History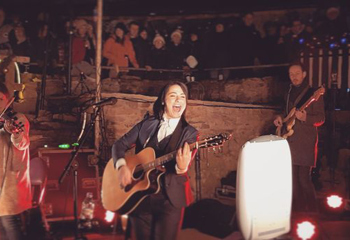 27 June 2019
June is Pride month. A chance to reflect on the strides made towards achieving equality and to acknowledge that there is still a way to go, as well as a time to celebrate the breadth and diversity of the LGBTQ+ community.
Style Tips & Advice
Celebrity Style
Style History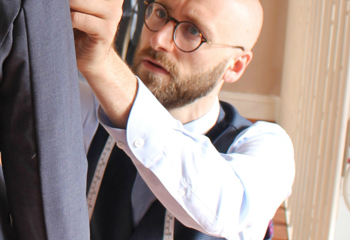 25 June 2019
When it comes to bodies, there's no such thing as a standard shape or size. Sure, plenty of us might have long legs or broad shoulders, but ultimately your proportions are unique to you. Is it any wonder, then, that so many people are left disappointed with the final fit when they choose an off-the-peg suit?
Style Tips & Advice