"No Mr Bond, I expect you to die!" – analysing the relationship between Daniel Craig's hair colour and the suits he wears as Bond
In his private life Craig rarely wears a suit, preferring smart, fitted casualwear. That is not to say, however, that he doesn't wear suits extremely often: he's had enough red carpet strolls and Bond junkets to last a lifetime, which is probably why it looks like he'll be hanging up his Walther PPK after Spectre.
Whether he's comfortable in suits or not, his stylist certainly has great taste… and insight. His suits both on screen and off are classically simple: two buttons with notch lapels – in plain, simple colours. Analysing the suits over the years, however, an interesting pattern emerges regarding their colour pallete.
In the 9 years since he began playing the role, Craig's suits have changed from predominantly blue to predominantly grey. This is because his hair colour has gone from blond to silver, and someone behind the scenes has made sure that his hair and skin tone matches the suits he wears.
Here's the evidence:
Casino Royale:
Blue suit, blue shirt
Skyfall:
This is the suit Bond wears for most of Skyfall. Is it blue? Is it grey? Is it deliberately ambiguous…?
Spectre: 
Tonal greys and notably silver hair
Grey suit, with blue shirt and tie (to compliment his eyes)
Feeling inspired? For more advice, or to have something made to your size and requirements please get in touch.
Call 0800 0274430 or contact us here for more information about King & Allen. We have fitting locations in London: Liverpool St, Wilmslow and Surbiton. We also take consultations on Savile Row, by appointment only.
FacebookTwitterGoogle+PinterestCopy LinkShare
26 September 2019
An increasing number of companies are adopting a less formal office dress code these days, with fewer businesses expecting their male employees to show up in a suit and tie. Instead, the new watchword is 'smart-casual'. But where does that leave the suit lover?
Style Tips & Advice
Business Style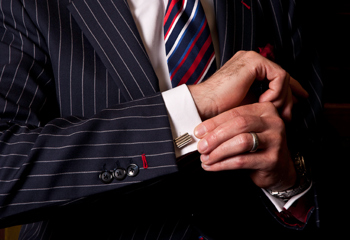 12 September 2019
The term 'pinstripe' refers to the very thin, parallel lines that run through a cloth, contrasting with the main colour. Taken at face value, it would seem to be a fairly bland description of a simple fabric pattern. But the history of the pinstripe suit is anything from bland and, indeed, the suit itself has a host of connotations attached to it.
Style Tips & Advice
Style History
27 August 2019
The new Peaky Blinders series is back with a bang and we're not just talking about the storylines. As ever, Tommy and his crew look as sharp as the razor blades the real-life Peaky Blinder gang were rumoured to stitch into the peak of their flat caps.
Style Tips & Advice
Celebrity Style
Style History