Why should you invest in 2nd trousers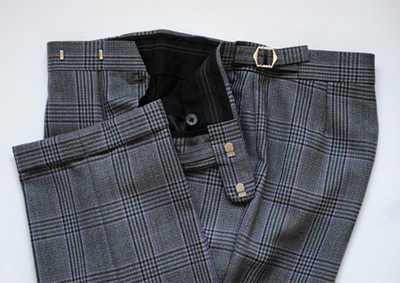 Before we start this list, it's important to bear in mind that a well-kept jacket can last a lifetime. For trousers this is much more of a challenge. There are three reasons why it's highly recommended that you invest in a second pair of trousers for your suit:
1. Wear and tear. The natural toing and froing of the male thigh does no favours for the wear and tear of your trousers. The constant abrasion will eventually cause the fabric to lose its lustre, and eventually a shine will appear, or even a hole, and the suit is ruined. Invest in two pairs of trousers and rotate them and your suit will last twice as long.
2. Hygiene. We all know that we should dry clean our suits as seldom as possible. A good way of achieving this is to air them as long as possible between wears. Having two pairs of trousers will ensure that one pair can be aired whilst the other is worn.
3. Variation. Ordering a second pair of trousers offers the possibility of a pair with a slimmer/wider leg, belt hoops as opposed to side adjusters, pleats as opposed to flat fronted etc. These subtle variations can alter the look and feel of a suit – to great effect.
26 September 2019
An increasing number of companies are adopting a less formal office dress code these days, with fewer businesses expecting their male employees to show up in a suit and tie. Instead, the new watchword is 'smart-casual'. But where does that leave the suit lover?
Style Tips & Advice
Business Style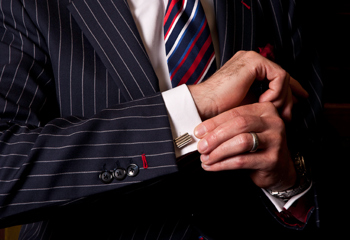 12 September 2019
The term 'pinstripe' refers to the very thin, parallel lines that run through a cloth, contrasting with the main colour. Taken at face value, it would seem to be a fairly bland description of a simple fabric pattern. But the history of the pinstripe suit is anything from bland and, indeed, the suit itself has a host of connotations attached to it.
Style Tips & Advice
Style History
27 August 2019
The new Peaky Blinders series is back with a bang and we're not just talking about the storylines. As ever, Tommy and his crew look as sharp as the razor blades the real-life Peaky Blinder gang were rumoured to stitch into the peak of their flat caps.
Style Tips & Advice
Celebrity Style
Style History