Why should you invest in 2nd trousers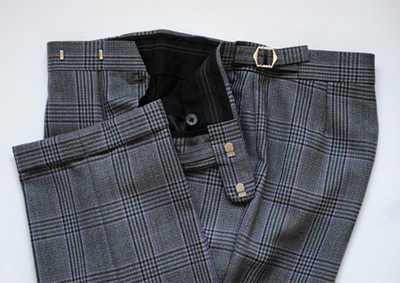 Before we start this list, it's important to bear in mind that a well-kept jacket can last a lifetime. For trousers this is much more of a challenge. There are three reasons why it's highly recommended that you invest in a second pair of trousers for your suit:
1. Wear and tear. The natural toing and froing of the male thigh does no favours for the wear and tear of your trousers. The constant abrasion will eventually cause the fabric to lose its lustre, and eventually a shine will appear, or even a hole, and the suit is ruined. Invest in two pairs of trousers and rotate them and your suit will last twice as long.
2. Hygiene. We all know that we should dry clean our suits as seldom as possible. A good way of achieving this is to air them as long as possible between wears. Having two pairs of trousers will ensure that one pair can be aired whilst the other is worn.
3. Variation. Ordering a second pair of trousers offers the possibility of a pair with a slimmer/wider leg, belt hoops as opposed to side adjusters, pleats as opposed to flat fronted etc. These subtle variations can alter the look and feel of a suit – to great effect.

11 December 2020
As some of you may know, we said a final farewell to our Wilmslow store at the end of October after 11 fantastic years. We are delighted to announce we have just reopened our new store just down the road in Knutsford!
King & Allen News

04 December 2020
We are delighted to announce the launch of our new online store. Our shop offers clients a range of accessories to complement their sartorial lifestyles. From stylish pocket squares, to cufflinks and tie clips, to more practical suit care and face masks, you can browse at your leisure.
Style Tips & Advice
Accessories
King & Allen News

22 October 2020
At King & Allen, we are always looking for new ways to break new ground, grow and bring the best possible service to our clients. A big part of that is making sure that we keep up-to-date on the very latest styles, trends and fabrics, as well as innovating ways to improve our service and our standards. That's why we're so excited to announce our new fabric range, made from recycled bottles!
Style Tips & Advice
King & Allen News
Vegan