Icon of the Month – Brad Pitt
This month sees the release of By the Sea, the first film Brad Pitt and Angelina Jolie have starred in together since they met on the set of Mr & Mrs Smith – 10 years ago. Reactions to the film have swayed from one pole to the other, but what is in no doubt is that in the last 10 years the pair have transcended from attractive movie stars to cultural icons. From his cameo in True Romance, through the Oceans trilogy and up to and including Fury, Pitt has maintained a flawless image – the human personification of 'effortlessly cool'. This persona is very much reflected in his suit wearing: he'll wear a three piece with no tie, or a pocket square with no tie or even wear his tie loosened. It's a marrying of a relaxed attitude and an attention to detail that works well for him, but could work equally well for the King & Allen customer. Ideal situations would be a smart but informal event, such as an evening wedding, a theatre trip or a date.
Feeling inspired? If you've seen something you like and you'd like it made for you please do not hesitate to get in touch.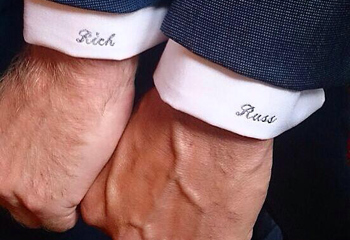 26 May 2022
Planning for your wedding can be a stressful time for some and the day itself often passes in a blur of joy and excitement. That's why it's important to 'stop and smell the roses' during your wedding journey and remember all of the reasons you've chosen to marry the love of your life. After the event itself, there are a plethora of ways you can look back fondly on the day, from the photos, to the video, to the signatures in the guest book. But did you know that your wedding suit can also serve as a reminder of the best day of your life? Read on to find out how...
Weddings
26 May 2022
2022 is a very special year for Pride, as it marks 50 years since the first ever march in 1972. While there were only 700 bravely marching then, this year it is expected there will be over 2 million attendees! Of course, many historical milestones have been achieved since 1972.
Style Tips & Advice
Style History
26 May 2022
Next week, the whole world will be watching as we celebrate 70 years with Queen Elizabeth II on the throne! The Queen has created quite the signature fashion lookbook that deserves its own jubilee. Her style has, quite literally, stood the test of time. Through nine decades, with her vibrant pant-suits and matching hats, stunning heirloom brooches - not to mention the symbolism behind every ensemble - it's no wonder the Queen is our style icon.
Style History