Icon of the Month – Brad Pitt
This month sees the release of By the Sea, the first film Brad Pitt and Angelina Jolie have starred in together since they met on the set of Mr & Mrs Smith – 10 years ago. Reactions to the film have swayed from one pole to the other, but what is in no doubt is that in the last 10 years the pair have transcended from attractive movie stars to cultural icons. From his cameo in True Romance, through the Oceans trilogy and up to and including Fury, Pitt has maintained a flawless image – the human personification of 'effortlessly cool'. This persona is very much reflected in his suit wearing: he'll wear a three piece with no tie, or a pocket square with no tie or even wear his tie loosened. It's a marrying of a relaxed attitude and an attention to detail that works well for him, but could work equally well for the King & Allen customer. Ideal situations would be a smart but informal event, such as an evening wedding, a theatre trip or a date.
Feeling inspired? If you've seen something you like and you'd like it made for you please do not hesitate to get in touch.
26 September 2019
An increasing number of companies are adopting a less formal office dress code these days, with fewer businesses expecting their male employees to show up in a suit and tie. Instead, the new watchword is 'smart-casual'. But where does that leave the suit lover?
Style Tips & Advice
Business Style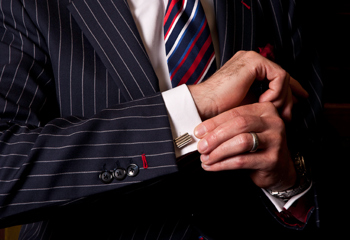 12 September 2019
The term 'pinstripe' refers to the very thin, parallel lines that run through a cloth, contrasting with the main colour. Taken at face value, it would seem to be a fairly bland description of a simple fabric pattern. But the history of the pinstripe suit is anything from bland and, indeed, the suit itself has a host of connotations attached to it.
Style Tips & Advice
Style History
27 August 2019
The new Peaky Blinders series is back with a bang and we're not just talking about the storylines. As ever, Tommy and his crew look as sharp as the razor blades the real-life Peaky Blinder gang were rumoured to stitch into the peak of their flat caps.
Style Tips & Advice
Celebrity Style
Style History