The K&A Guide to Dressing for work
Would you like to look great at work? Do you want to rise through the ranks like the proverbial phoenix? Of course, you do!
Studies show that dressing well for work will make you more successful. Not only does it improve how your employers and colleagues see you, but it also improves your productivity and can even boost your level of abstract thinking.
Dressing in a great suit will also make you feel more confident; when you look great, you feel great! Just follow these simple guidelines.
The clothes you wear and the way you groom yourself will change the way other people hear what you say. - Riskology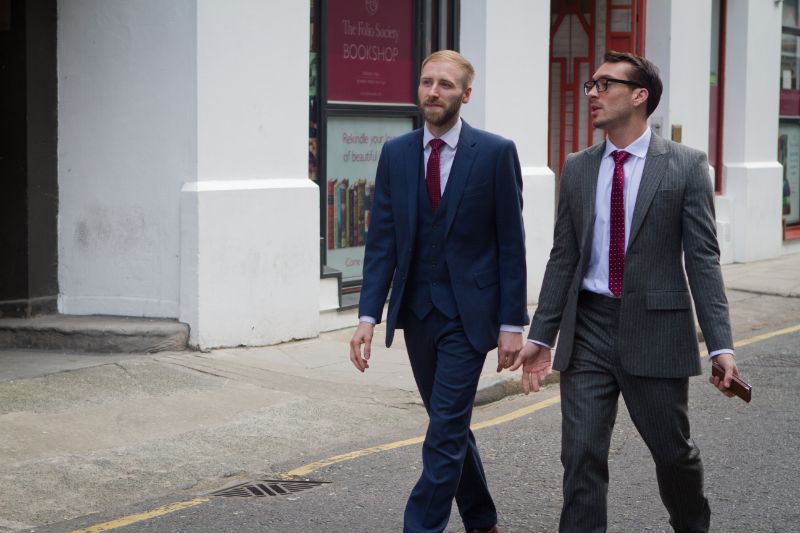 How to Dress Well for Work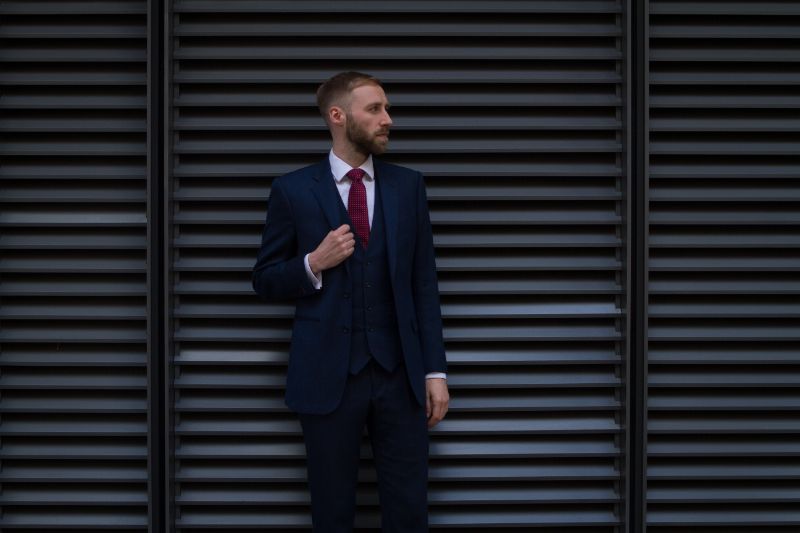 The Suit Cloth
The colour, pattern, texture and quality of the cloth are hugely significant to the look and feel of a suit. Grey. Blue and black are the most popular colours for a work suit. Here's why:
Grey is practical, versatile and slimming. It's practical because it looks appropriate in almost any office environment, it's versatile because it will work with almost all your shirts and shoes and the further towards charcoal you go, the more slimming it becomes.
Blue is a warmer colour than grey, and is, therefore, more suitable if you are customer facing.
Everyone should own a black suit (for funerals), but with the right shirt and tie combination, black can also be appropriate office attire – especially with a black shadow stripe.
For a hard-wearing suit, the weight of the cloth should ideally be between 10 and 13oz, and it should have a 'plain weave', as this produces the maximum number of warp and weft interlacing – for superior strength (which will also prevent it from creasing).
Don't be a slave to S Ratings. Simply put, the higher the S number the finer and more luxurious the cloth will feel, but the less hard-wearing it will be. Think of it as an inverse indication of hardiness – as well as quality. For a work suit that you plan to wear every week, we recommend going up to Super 120s only. If you have more suits in your wardrobe you can rotate, which will extend the life of your suits considerably.
To put it simply, if you're buying a classic work suit you may as well make it last. In which case do not scrimp on cloth. That's why so many people opt for a trusted brand like Savile Row cloth merchant Holland & Sherry. When someone buys a new suit they want to be adding variation to their wardrobe – not replacing their staples.
The Suit Style
All our suits are bespoke so at your initial consultation we will guide you through the almost limitless style options.
Each suit is designed uniquely for you, but for a classic British 'workaday' suit we would recommend the following options:
Jacket:
2 buttons, unless you're particularly small in which case one button is better: the longer skirt (cloth between buttons and hem) elongates the upper body so if there's only one button this distance is greater – which makes you look taller!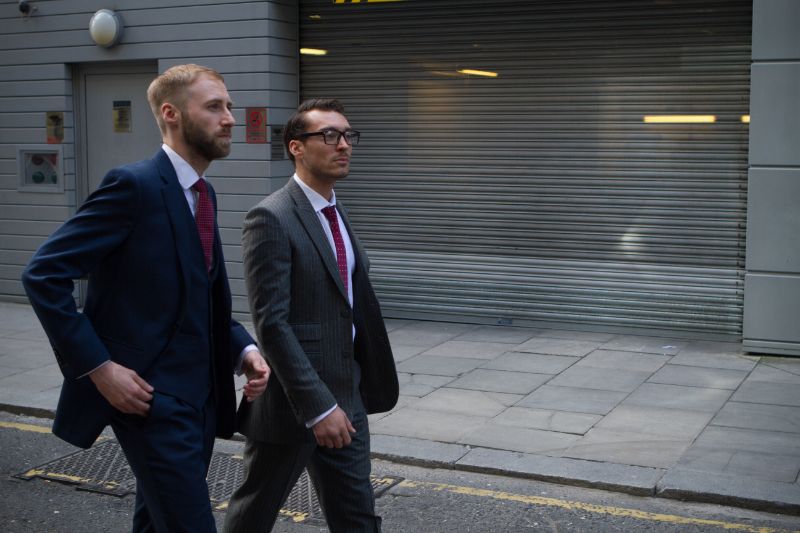 Notch lapels point the eye inward, balancing out the symmetry between the shoulders and hips. Peak lapels draw the eye away from the body, so if you want to look more broad-shouldered they are a great option.
The lapel itself should be between 7 and 9cms wide depending on the breadth of your shoulders. 7cms looks slightly more modern and 8 or 9cms is a more classic look. This will vary depending on your shoulder width, but we will us our discretion to ensure it's correct for your dimensions.
Slanted pockets are more slimming, as the angles compliment the 'fitted' look of the jacket.
Ticket pockets are entirely down to your discretion but are more appropriate if you are aiming for a "City" look. If you're opting for a simple suit it adds some lovely asymmetry. It is also worth noting that if you want to look tall and slim then the ticket pocket interrupts the curve of a suit and reduces its slimming effect.
A well-fitted suit should have double vents. They allow the jacket to come in at the waist without affecting the drape.
Trousers:
Keep it simple – the trousers should be cut for comfort and elegance – not for making a statement. They should be flat fronted (or with pleats if you desire more room).
Belts are an unnecessary and unflattering accessory to a good suit: unnecessary because the trousers should fit- unflattering because they cut the suit in half and make you look smaller.
Side adjusters provide far more 'food fluctuation'… and look the business!
Avoid turn-ups unless you are making a statement, or if you have disproportionately long legs – as they make your legs appear shorter.
Waistcoats:
Waistcoats transform a regular two piece suit into something truly special. They are smart, flattering and set you apart as someone who takes care of their appearance.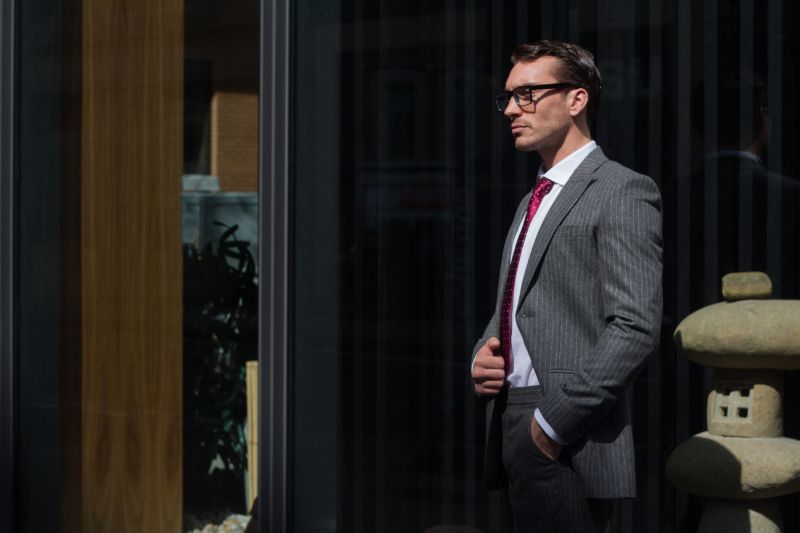 The Jacket Fit
Find a mirror, and stand normally in front of it. Many people immediately stand 'to attention'. Relax. You'll get much more accurate results…
The jacket should button at the narrowest point of your torso. If it is cut correctly this will be the same whether it's a one or two button jacket.
Many tailors rigidly stick to the old adage that the jacket length should rest at your thumb. However, this is missing the option to customise a suit to your unique body shape, and whilst it may be correct more often than not we do not always adhere to it. For example, if you have a relatively long body and short legs, cutting the jacket a few centimetres shorter can make your legs look longer and therefore balance you out. For a business suit, we recommend that the jacket covers the seat, but otherwise we use our discretion
The sleeve should meet the break of your wrist and show about 1cm of shirt cuff.
Unbutton the jacket. Where the jacket buttons, the lines should be parallel, and resting a few centimetres apart. This will tell you whether the fit and balance are correct.
Turn sideways to the mirror and button up the jacket. It should be the same length at the front as it is at the back. This is your second indicator of balance.
If both of these indicators are perfect: raise your right hand and pledge allegiance to your tailor for life. This is the basis of the perfect fit. The rest is detail.
The Trouser Fit
Trousers that fit will last you longer, but nevertheless, they will receive far more wear than the jacket. Buying a second pair will save you money in the long term.
They should sit comfortably on your waist without the need for a belt.
Wearing no shoes, the trousers should break once at the front and rest gently on the floor at the back. If you're breaking twice on the front you can request a cavalry cut, which is slightly angled.
You should be able to sit comfortably in the trousers, without pulling at the thigh or seat.
A regular cut trouser should show approximately the first row of laces of a classic lace-up shoe.
Shoes
Wear classic lace up shoes! Slip-ons are for ballet dancers and Derek Trotter.
With a grey suit: black or brown is acceptable.
With a blue suit: only brown is acceptable.
With a black suit: only black is acceptable.
Shoes don't have to cost an arm and a leg to be comfortable, good looking and hard-wearing. But they should always be clean and un-scuffed. Polish and protect regularly. Your feet (and wallet) will thank you.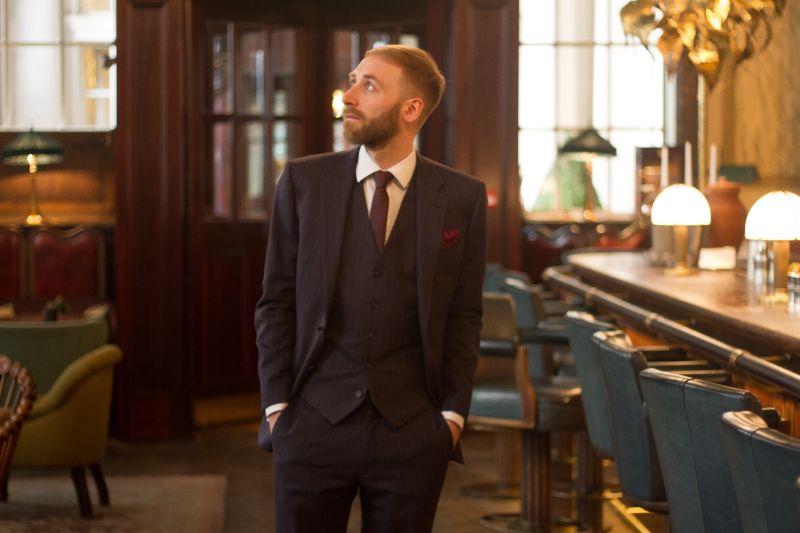 Shirt
The general view at King & Allen is that if you want to add some colour and interest to your work attire it should be done through accessories: a colourful pocket square, a stylish tie, a beautiful antique tie bar, a dynamic lining etc. The shirt, therefore, does not need stripes or bold patterns. It should remain stylish and understated.
If there's an opportunity to add a subtle secondary colour then it's certainly worth considering. At King & Allen, for example, you can choose a second shirt cotton that is hidden under the collar, cuff or placket. Or you can have your initials on the cuff.
Final Comment
No one knows better than a tailor that we are all individuals with different tastes, requirements and body shapes. The above is just a guide to cover the basics.
If you disagree with any of the above you are probably right! It means that you have reached some conclusions about your own tastes, requirements and body shape and we salute you for it!
Would you like a bespoke business suit?
King & Allen specialise in beautifully tailored business suits that will fit and flatter every body shape.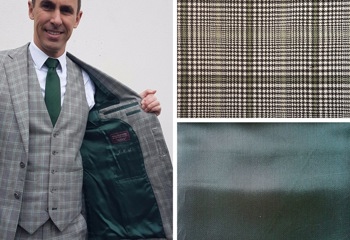 11 October 2021
The lining of the suit is often overlooked but, at King & Allen, this is often one of the most fun moments for our customers. 'The lining choice is a chance for you to show some flair,' says Jake Allen, 'even if your suit is quite plain, the lining can really liven it up and show off your individuality.' We've outlined some cloth and lining pairings below, to give you some inspiration for your next suit!
Style Tips & Advice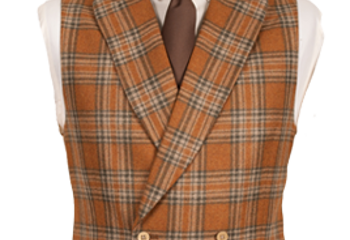 11 October 2021
Now the seasons have turned and autumn is in full swing, it's time to delve a little deeper into the upcoming trends of the next few months. Our linens and cottons are safely packed away and it's now the perfect opportunity to look at what additions we can add to the wardrobe to get us through the cold winter months.
Style Tips & Advice
11 October 2021
When Daniel Craig stepped out for the premiere of 'No Time to Die,' wearing a pink, double-breasted, velvet tuxedo jacket, it caused a sartorial moment that we haven't seen for some time. At King & Allen, we have been fans of the pink suit for a number of years, so we were over the moon to see James Bond himself embracing this vibrant and multi-faceted colour. Read on to see how you can incorporate more pink into your suit wardrobe and how to get the Daniel Craig look...
Style Tips & Advice
Weddings