Trousers – Do's & Don'ts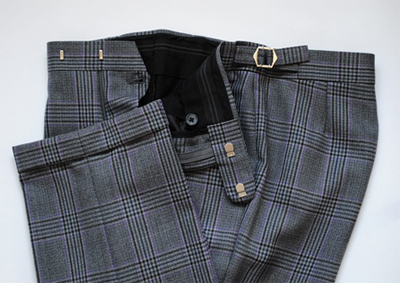 1. Length. This is probably the easiest rule to follow yet the most commonly ignored. With your shoes off, the back of the trouser should drop straight to the ground without a crease. The result should be a single break at the front. If you have more than one break, speak to your tailor about a 'cavalry cut' – where the trousers are cut at a slight angle.
2. Width – wide trousers look too baggy and skinny trousers are no longer in fashion. The trousers should be comfortable on the seat and thigh but taper adequately to the shoe to between 20 and 24 cms in diameter (although this may vary depending on height and preference).
3. Second trousers – the life cycle of a jacket is considerably longer than that of trousers. Trousers receive far more wear, tear and strain, so for a relatively small financial investment up front you can save a fortune over time. This is especially the case for commuters. The second trouser option also allows for a change of style. For example, customers often order one traditional pair (regular cut, side adjusters and pleats) and one contemporary pair (tailored cut, belt hoops and flat fronts) so they can mix and match according to occasion and whim.
4. Belt hoops or side adjusters? If you're wearing a bespoke suit you shouldn't ever need a belt, but for some it's a point of style. Side adjusters are the most popular choice for K&A customers, as they have such a rich heritage in bespoke tailoring – and the adjusting grips offer considerable purchase. The final decision, however is down to the individual.
5. To pleat or not to pleat…? Pleats are very traditional, but that's not necessarily a bad thing: adding a touch of old world British-ness to a suit can look fantastic, and if you're carrying some weight they can offer considerable comfort. Most King & Allen customers, however, are aiming for smooth, clean lines and a modern silhouette to their trousers. A flat front is therefore the most popular choice.
Call 0800 0274430 or contact us here for more information. We have fitting locations in London: Liverpool St, and Savile Row ; Nottingham; Leeds; Wilmslow and Surbiton. We also have a new store in Amersham.
26 September 2019
An increasing number of companies are adopting a less formal office dress code these days, with fewer businesses expecting their male employees to show up in a suit and tie. Instead, the new watchword is 'smart-casual'. But where does that leave the suit lover?
Style Tips & Advice
Business Style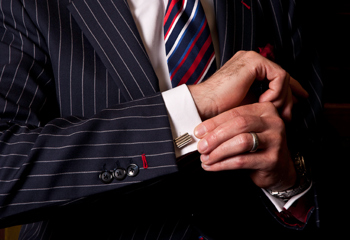 12 September 2019
The term 'pinstripe' refers to the very thin, parallel lines that run through a cloth, contrasting with the main colour. Taken at face value, it would seem to be a fairly bland description of a simple fabric pattern. But the history of the pinstripe suit is anything from bland and, indeed, the suit itself has a host of connotations attached to it.
Style Tips & Advice
Style History
27 August 2019
The new Peaky Blinders series is back with a bang and we're not just talking about the storylines. As ever, Tommy and his crew look as sharp as the razor blades the real-life Peaky Blinder gang were rumoured to stitch into the peak of their flat caps.
Style Tips & Advice
Celebrity Style
Style History