The History of the Suit Jacket
Practical, comfortable, smart and flattering, no other garment has impacted menswear quite like the humble suit jacket. In the following article we trace the steps of this hugely important garment, from the work attire of 15th century peasant farmers to the two buttoned, single breasted style icon that hangs in your wardrobe…
The jacket shape, as we know it, first originated in the middle ages, as the farming tunic gave way to a more fitted coat-like shape called a jerkin. This tapered shape could only be practically achieved after the invention of the button and button hole in the 13th century – as exemplified by a very dashing looking Sir Walter Raleigh, pictured here in 1602: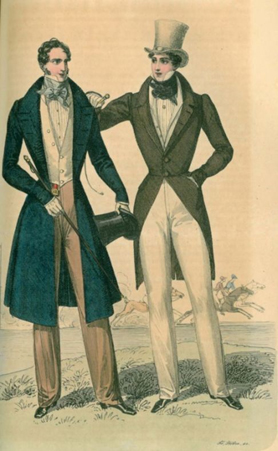 Sir Walter Raleigh cutting a dash in a 'jerkin' – the earliest form of jacket.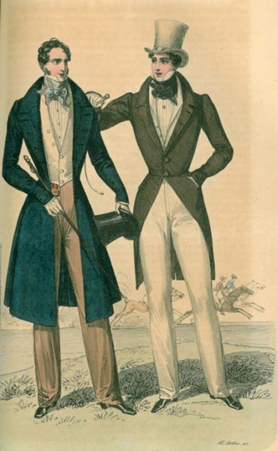 An intricately woven frock coat – as worn by the French Aristocracy at the time of the Renaissance.
Although it rarely had sleeves, the shape and cut of the jerkin (as well as the method of fastening) paved the way for this new style of garment.
The jacket as we know it (i.e. as the top half of a suit) was traditionally called a 'Coat', and to this day tailors skilled enough to make jackets are called 'Coat-makers'. The role of the coat was to protect the wearer from the elements, a role now played by the overcoat. However, the shape and dimensions of early jackets are extremely similar to the modern overcoat – as this renaissance frock coat (characterised by its collarless neck and straight cut) demonstrate:
The frock coat began its popularity amongst the French aristocracy, and the style soon crossed the Channel and was adopted by the English gentry in the era of the Industrial Revolution. The coat acquired a more tapered form, as well as lapels and a collar – creating the style of jacket we know as the tailcoat.
The English Tailcoat – single breasted with notched lapels
By the late 19th century frock coats were still being worn, but they had been shortened considerably – to form a shape very similar to that of the 'modern' double breasted jacket.
An advertisement for the latest jacketing style – from 1892. An advertisement for the latest jacketing style – from 1892
The modern 'lounge suit' was born, and around the same time the smoking jacket and the tuxedo became fashionable as a 'casual evening alternative' to tails or white tie.
Fast forward 120 years, and while fashions have come and gone, the basic pattern has remained almost entirely unchanged. The suit (and especially the bespoke suit) has become a symbol of the well-dressed, well-educated and well-heeled gentleman – a modern day armour on the battlefield of life!
Call 0800 0274430 or contact us here for more information. We have fitting locations in London: Liverpool St, Savile Row; Nottingham; Leeds; Wilmslow and Surbiton. We also have a new store in Amersham.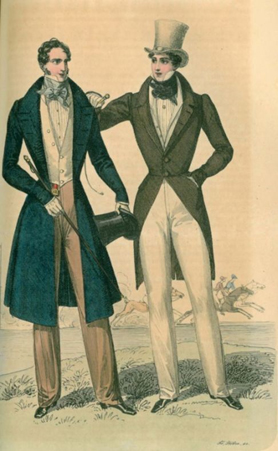 An advertisement for the latest jacketing style – from 1892