King & Allen 'Icon' Special – The Suits of Salvador Dali
One of our favourite smaller stories of this month was about a man called Tomeu L'Amo who spent 25 years proving that an artwork he bought in an antiques store for €150 was a Salvadore Dali original.
Dali's dressing style was almost as original, flamboyant and creative as his art. As well as his trademark chalk stripe double breasted suits (complete with pocket square), he was a huge fan of bright colours and rich, extravagant cloths such as velvet, silk and tweed.
His style is a reminder to us all that dressing well is as much about having fun and experimenting as it is following the trend.
Be warned, however. You can take things too far: for the launch of the International Surrealist Exhibition in 1936 Dali arrived to give a lecture wearing a full diving suit. The stunt backfired, however, when he nearly suffocated and had to be extracted from the helmet with a pair of pliers!
Here are King & Allen's Top 10 Salvador Dali looks:
10. Heavyweight tweed with wide lapels
9. Full white Tie… and cane.
8. Fitted double breasted chalk stripe with boot-cut trousers.
7. Double breasted overcoat, pinstripe suit… and cane.
6. Three button tweed with velvet collar… and cane.
5. Double breasted chalk stripe, flamboyant waistcoat… and cane.
4. A cacophony of colours, cloths and accessories!
3. Shawl collar velvet smoking jacket.
2. The full works – smoking jacket, outrageous waistcoat, pinstripe trousers… and cane.
1. Simple, iconic and timeless. Two tone chalk stripe
Feeling inspired? See something you like? Call 0800 0274430 or contact us and talk to us about your ideas.
We have fitting locations in London: Liverpool St, Savile Row and Charing Cross; Nottingham; Leeds; Wilmslow and Surbiton. We also have a new store in Amersham
26 September 2019
An increasing number of companies are adopting a less formal office dress code these days, with fewer businesses expecting their male employees to show up in a suit and tie. Instead, the new watchword is 'smart-casual'. But where does that leave the suit lover?
Style Tips & Advice
Business Style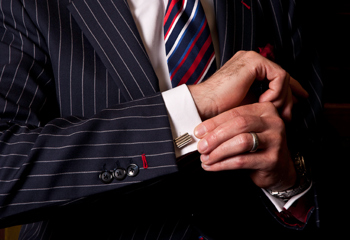 12 September 2019
The term 'pinstripe' refers to the very thin, parallel lines that run through a cloth, contrasting with the main colour. Taken at face value, it would seem to be a fairly bland description of a simple fabric pattern. But the history of the pinstripe suit is anything from bland and, indeed, the suit itself has a host of connotations attached to it.
Style Tips & Advice
Style History
27 August 2019
The new Peaky Blinders series is back with a bang and we're not just talking about the storylines. As ever, Tommy and his crew look as sharp as the razor blades the real-life Peaky Blinder gang were rumoured to stitch into the peak of their flat caps.
Style Tips & Advice
Celebrity Style
Style History