K&A Suit Style Predictions for 2014 – Part II: Cloth & Colour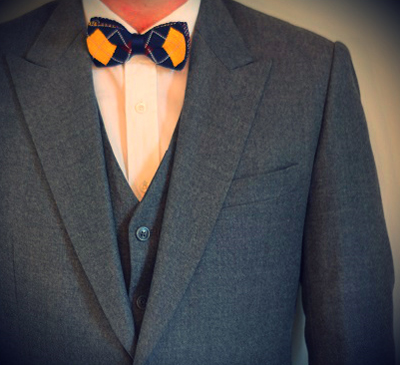 Continuing from last week's article on Cut and Style, below are the King & Allen 2014 style predictions for Cloth & Colour:
Milled finish / flannel cloths
Over the last ten years it has been interesting to observe how the popularity of milled finished cloths have waxed and waned. Only a few years ago, a clean cut, Italian style cloth accounted for the majority of King & Allen suit orders. The 'hairier' cloths were considered old fashioned – the choice of the crusty and dusty. Customers wanted their suits with clean lines – epitomised by a silky smooth cloth. Since then we've had a Jubilee, a Royal Wedding, the Olympics and the birth of a future King: culturally we are embracing our British Heritage and this is reflected in the type of suits we will be wearing in 2014.
A milled finished provides a suit with a unique three dimensional texture that feels rich and opulent. The reputation of milled cloths that they are only for the super-rich is justified. Until relatively recently they wore through or went shiny very quickly, so you couldn't commute or wear them daily. This is still the case at the lower end of the market (which is why you won't find many milled cloth suits on the high street). At King & Allen we only use progressive cloth companies such as Holland & Sherry who produce beautifully textured wools that will retain their lustre despite repeated wear.
Expect to pay at King & Allen: £549 to £1199 (Holland & Sherry flannel in full canvas)
Velvet
2013 was the year that the velvet came out from the underground and 2014 will be a strong year for wool's tufty, silky cousin. As well as being an interesting alternative to traditional black tie, a velvet jacket goes well with jeans and other casualwear – but also cuts a significant dash as a complete suit.
Worn in the right context, velvet makes a fantastic 'special occasion' cloth – it reflects light beautifully and drapes well despite repeated use. In the past velvet was troublesome to maintain, but improved cloth quality and modern dry cleaning methods now mean that you can enjoy wearing velvet without worrying too much – which is great since it's so ideal for parties.
For the price conscious there is a cotton derivative, velveteen- although it does not bear the same silky lustre and will not drape as well.
Expect to pay at King & Allen:  £450 to £935 for a Jacket, £605 to £1320 for a full suit.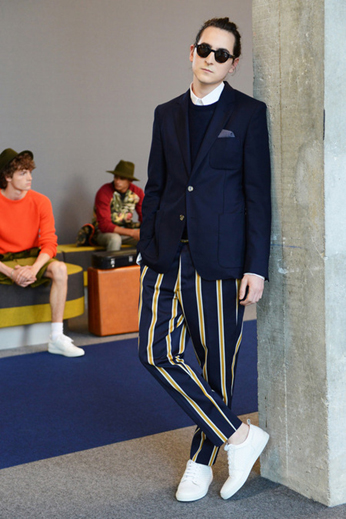 Finally – One for the brave: Regatta Stripes
One of the outstanding styles we noticed at this year's London Collections: Men were these "Regatta stripe" trousers. If you can look past the Blue Steel pout, the ridiculous glasses and the terrible hair, this is actually a great look for Spring/Summer 2014. The top half is elegant and conservative, the bottom half dashing, dapper and a little bit dandy. The complimentary colours tie both halves together beautifully to create a fun and original look that's perfect for a smart, outdoor event.
Expect to pay at King & Allen: Price on inquiry
Call 0800 0274430 or contact us here for more information. We have fitting locations in London: Liverpool St, Savile Row and Charing Cross; Nottingham; Leeds; Wilmslow and Surbiton. We also have a new store in Amersham .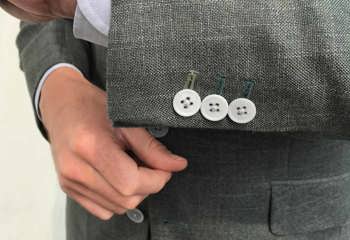 07 November 2019
November is World Vegan Month, when vegans around the world celebrate their lifestyle choice and champion others to do the same. And it seems more and more of us are making the switch. In 2018, there were 3.5 million registered vegans in the UK, up from around 540,00 in 2016, according to a study by The Vegan Society, which just happens to be celebrating its 75th birthday in 2019.
Style Tips & Advice
Celebrity Style
28 October 2019
When it comes to style superstars, there is none more seminal, more chameleon-like and more innovative than David Bowie. As you may remember, we included the iconic star's ever-evolving look in our recent blog post on the suits that rocked. That's why we were over the moon when Professor of Film and Cultural Studies, Dr Will Brooker, approached us to make a copy of Bowie's legendary mustard-yellow suit.
Celebrity Style
King & Allen News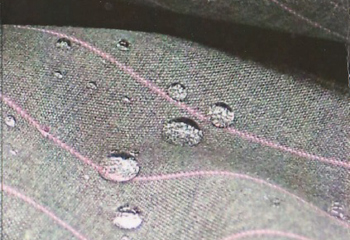 27 October 2019
Creating the perfect suit starts with a high-quality fabric. That's why we work closely with renowned  luxury cloth merchant, Holland & Sherry, to make sure we have the world's best possible cloths available for our clients. While we place great value on traditional methods – for example some of Holland & Sherry's pattern weaving hasn't changed in 200 years – we also believe in keeping one eye firmly on the very latest bespoke tailoring technologies.
Style History
King & Allen News