Icon of the Month – Idris Elba
Idris Elba deserves Icon status on the strength of this photograph alone. At 6ft, 3" he pulls off this double-breasted suit perfectly, reaffirming what we've said many times before in The Stitch – that if you're tall and well built a double-breasted suit is definitely worth considering.
As well as an actor, he's also a (proper) DJ, a rapper and can produce and direct. He's also tipped to be the next Bond – a role he would no doubt excel in.
Elba's wardrobe is as versatile as his acting talent, which, considering he played both Stringer Bell and Nelson Mandela, is quite a statement.
Call 0800 0274430 or contact us here for more information. We have fitting locations in London: Liverpool St, Savile Row, and Charing Cross; Nottingham; Leeds; Wilmslow and Surbiton. We also have a new store in Amersham.
26 September 2019
An increasing number of companies are adopting a less formal office dress code these days, with fewer businesses expecting their male employees to show up in a suit and tie. Instead, the new watchword is 'smart-casual'. But where does that leave the suit lover?
Style Tips & Advice
Business Style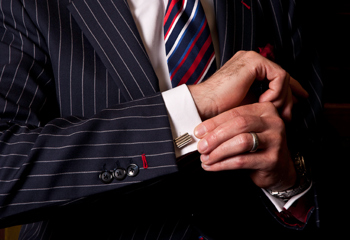 12 September 2019
The term 'pinstripe' refers to the very thin, parallel lines that run through a cloth, contrasting with the main colour. Taken at face value, it would seem to be a fairly bland description of a simple fabric pattern. But the history of the pinstripe suit is anything from bland and, indeed, the suit itself has a host of connotations attached to it.
Style Tips & Advice
Style History
27 August 2019
The new Peaky Blinders series is back with a bang and we're not just talking about the storylines. As ever, Tommy and his crew look as sharp as the razor blades the real-life Peaky Blinder gang were rumoured to stitch into the peak of their flat caps.
Style Tips & Advice
Celebrity Style
Style History