Accessories – the magic number
Pocket squares, tie pins, collar bars, cravats, tie bars… suit accessories have never been more popular. And understandably so: a well-chosen blend of accessories can turn a standard suit into a sartorial masterpiece. But if you take it too far you're trying too hard and you could ruin all that effort. The crucial thing is to strike a balance, and the magic number to ensure accessorising harmony is, as De La Soul so famously put it, 3.
However, this magic number only works if one of your three is your tie or (coloured) socks. If you're not wearing either of these the number falls to 2.
Example 1: Tie + tie bar + pocket square = sartorial win (see below), but if you add a collar bar into the mix the look is too busy and you've upset the balance.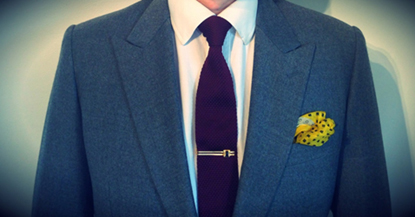 Example 2: Tie + collar bar + pocket square.
A note on collar bars – a collar bar requires you to own a shirt which has a small hole sewn in to each collar, but the effect is really stylish (K&A offer this shirt option for no extra charge):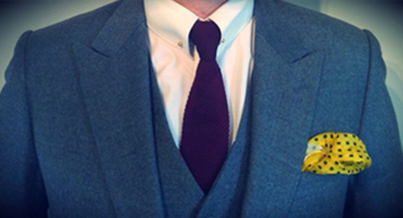 Example 3: Tie + pocket square + Clip-on Collar Bar
A note on Clip-on collar bars – a clip-on collar bar can be added to any shirt, but the collar will need to be fairly large and cannot be too wide spread (we can advise you on the best collar options):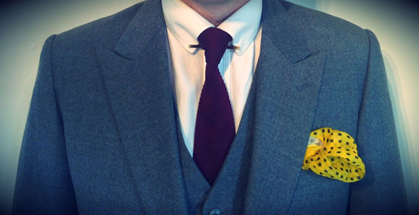 Example 4: Tie + Tie pin + pocket square
A note on tie pins – where possible try and create a protruding tie. It adds to the effect: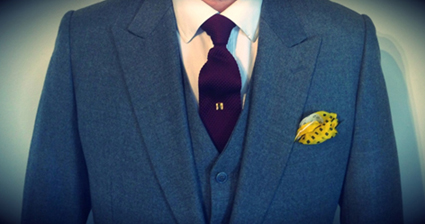 Please bear in mind that the 3 rule only applies to two or three piece suits cut in the same cloth – and if your cloth has a secondary colour (e.g. a windowpane check) you need to take special care not to add a too much colour into the mix.
Call 0800 0274430 or contact us here for more information. We have fitting locations in London: Liverpool St, Savile Row and Charing Cross; Nottingham; Leeds; Wilmslow and Surbiton. We also have a new store in Amersham.

11 December 2020
As some of you may know, we said a final farewell to our Wilmslow store at the end of October after 11 fantastic years. We are delighted to announce we have just reopened our new store just down the road in Knutsford!
King & Allen News

04 December 2020
We are delighted to announce the launch of our new online store. Our shop offers clients a range of accessories to complement their sartorial lifestyles. From stylish pocket squares, to cufflinks and tie clips, to more practical suit care and face masks, you can browse at your leisure.
Style Tips & Advice
Accessories
King & Allen News

22 October 2020
At King & Allen, we are always looking for new ways to break new ground, grow and bring the best possible service to our clients. A big part of that is making sure that we keep up-to-date on the very latest styles, trends and fabrics, as well as innovating ways to improve our service and our standards. That's why we're so excited to announce our new fabric range, made from recycled bottles!
Style Tips & Advice
King & Allen News
Vegan