The King & Allen Guide to Formalwear
With Christmas parties and Winter weddings fast approaching, and New Year's Eve just a few weeks away, it seemed like a good time to give some advice on how to dress for a formal occasion.
Below is a brief summary of the history and etiquette behind menswear's dark art – Formalwear.
Morning Dress
The most common occasion when a man wears morning dress is as a member of a wedding party, but you will always be told in advance if this is to be the case. In Europe, the groom sets the sartorial tone: the guests may wear morning dress if he does.
In common with court dress, mess dress, and white tie, morning dress is for prestigious and important social occasions. Despite its name, morning dress may be worn to afternoon social events before five o'clock, but not to events beginning after seven o'clock in the evening.
The classic Morning DressThe classic Morning Dress
Briefly, morning dress consists of:
- a morning dress coat, now always single breasted with one button, and with peaked lapels. The morning coat can be black or Oxford grey wool with the tails of knee length.
- a waistcoat usually in buff, (a yellowish tan colour) or dove grey which may be either single-breasted or double-breasted with lapels
- a pair of formal striped (or occasionally checked) trousers.
- a formal shirt: either a turndown collar is worn (white detachable, fastened by collar studs, or attached) with a tie, in which case the shirt has double cuffs. Otherwise, a high detachable wing collar is worn with a single-cuffed shirt. This combination is always accompanied now by a cravat – often with a tie pin. This is a more formal option most commonly seen at weddings.
- a plain or patterned silk handkerchief or pocket square; folded and inserted into the front breast pocket of the morning coat.
black Oxford shoes or dress boots, or boots with a horse riding connection, such as a Chelsea boot.
The following can optionally be worn or carried with morning dress:
-a top hat, either black silk plush, the classic hat always appropriate, or a modern fur replacement (silk plush is no longer manufactured); alternatively, a white hat (made of grey fur) is a less formal option worn either informally with a morning suit (all grey; see below) or at more casual events such as the races (Royal Ascot being the most notable); gloves of suede, chamois, or kid leather; a cane or umbrella, a pocket watch or wrist watch, a boutonnière.
- A black morning coat with matching black waistcoat is the most formal option, being worn for funerals, memorial services, diplomatic dress, or academic dress.
Morning Suit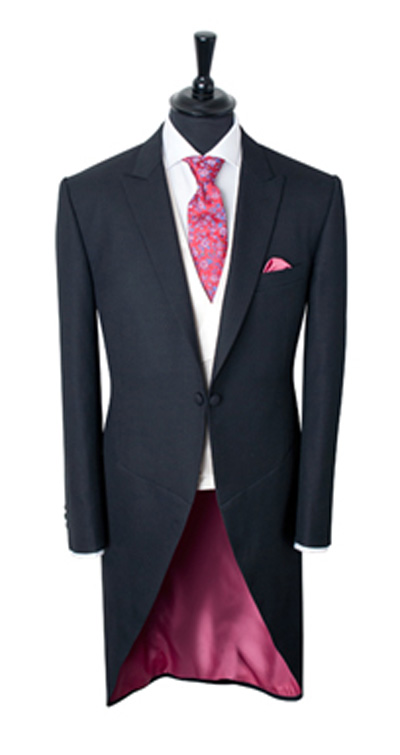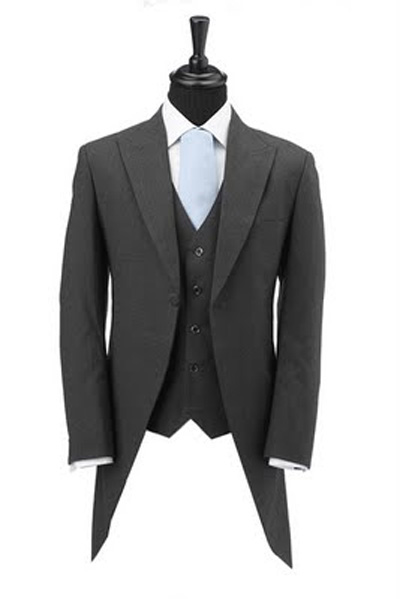 Morning Suit
For slightly less formal occasions a Morning Suit should be worn (as opposed to Morning Dress), which has mid-grey matching morning coat, waistcoat, and trousers (all cut the same as Morning Dress). Being more relaxed, this is a traditional option for events in less formal settings such as Royal Ascot, and is now often worn to weddings as well.
Black Tie
Black tie is worn to private and public dinners, dances, and parties. At the formal end of the social spectrum, it has replaced white tie which was once standard evening dress. Black tie is worn only after six o'clock in the evening.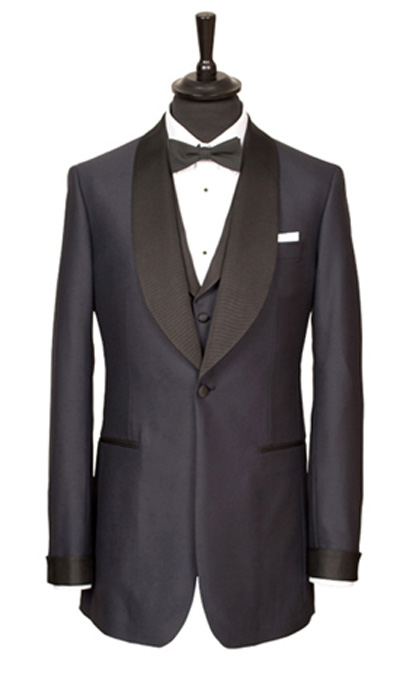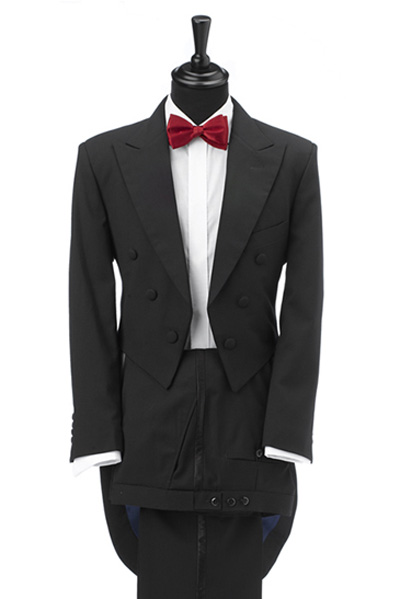 In Conclusion
What's great about formalwear from a buyer's perspective is that these styles have barely changed in centuries. It's therefore worth investing in good quality garments, safe in the knowledge that you'll get some really good wear out of them.

–
White Tie
White tie (also known as evening dress, or full evening dress) is the most formal evening dress code. It is worn to events such as balls, the opera, and formal dinners. The chief components for men are a dress coat, white bow tie and waistcoat, and starched shirt, black socks and black shoes.
White tie is worn only to events after six o'clock and before that time the daytime equivalent is the Morning suit.
The semi-formal counterpart of white tie (in the evening) is black tie.
The dress coat worn with white tie is a descendent of the coat worn at all times of day in the Regency period, so is also part of other related codes, such as civilian day court dress in the Royal court . However, these alternatives are now being replaced by standard white tie for formal state occasions, such as for ambassadors at the State Opening of Parliament.
The other advantage of buying formalwear bespoke is that as your body shape changes you can bring the garments into your tailor and have them adjusted.
If you have any questions about the above, or would like to know more about how formalwear options, please do not hesitate to get in touch.
Call 0800 0274430 or contact us here for more information. We have fitting locations in London: Liverpool St, Savile Row and Charing Cross; Nottingham; Leeds; Wilmslow and Surbiton.
20 July 2020
In the past few months, in light of the Coronavirus pandemic, there has been a dramatic shift in the world of work. A lot of businesses have chosen to keep their staff working from home and, with Zoom and other platforms reporting a massive uptake in daily users, video conferencing apps have come into their own...
Style Tips & Advice
Business Style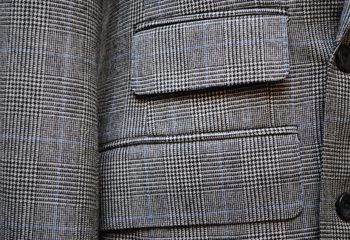 17 July 2020
Small. Utilitarian. Inconspicuous. The pocket doesn't exactly engender a lot of attention from designers, stylists and the fashion world as a whole. And yet, the history of the pocket goes back thousands of years...
Style History
16 July 2020
At King & Allen, we are big fans of mixing and matching our suits. So imagine our joy and delight when we discovered the Italian art of 'Spezzato.'
Style Tips & Advice