King & Allen Icon of the Month Special – Bill Murray
Every month King & Allen send out an e-magazine called The Stitch which features style advice, exclusive offers, tailoring news and other bite size chunks of great stuff.
In each edition we celebrate the style of a celebrity, crowning them our Icon of the Month. This month's Stitch was golf themed (to celebrate the launch of our new Golf Extreme Range) and we thought we'd tie it in with celebrating the on course style of our favourite golf aficionado and Caddyshack star, Bill Murray.
There were so many amazing pictures of Bill's golf garb we thought we'd knock up a quick top ten, so you could share in the splendour of his charmingly eccentric style.
You can pop over to our Facebook page if you haven't already visited us there!
If you like the look of these trousers you'll love our new Golf Extreme range from Holland & Sherry.
If you would like to subscribe to our free e-magazine – The Stitch – please click here. WE DO NOT SPAM. THAT WOULD BE RUDE.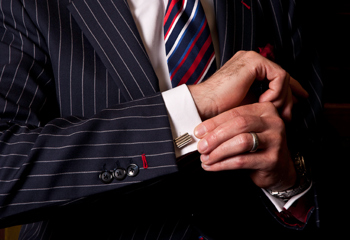 12 September 2019
The term 'pinstripe' refers to the very thin, parallel lines that run through a cloth, contrasting with the main colour. Taken at face value, it would seem to be a fairly bland description of a simple fabric pattern. But the history of the pinstripe suit is anything from bland and, indeed, the suit itself has a host of connotations attached to it.
Style Tips & Advice
Style History
27 August 2019
The new Peaky Blinders series is back with a bang and we're not just talking about the storylines. As ever, Tommy and his crew look as sharp as the razor blades the real-life Peaky Blinder gang were rumoured to stitch into the peak of their flat caps.
Style Tips & Advice
Celebrity Style
Style History
23 August 2019
Nothing pulls an outfit together more than the addition of an overcoat. It's been a staple in the fashion landscape for years and has recently had something of a resurgence in the public imagination...
Style Tips & Advice
Celebrity Style
Style History