What does a bespoke tailor wear to his own wedding? Part 2
My journey began in Primrose Hill, at the beautiful house of one of London's true modern dandies – Guy Hills. Guy runs a very unique cloth company – Dashing Tweeds. The house is a true reflection of the brand – the lounge was adorned with beautiful furniture upholstered in his cloths and downstairs was a recently built penny farthing bicycle, next to a cardboard box full of 'Dashing Tweeds' hand-made flat caps and customized Converse All Stars. Next to that: rolls and rolls of the most innovative and creative cloth designs I had ever seen. One particular cloth stood out to me, and I had made up my mind before I left the house.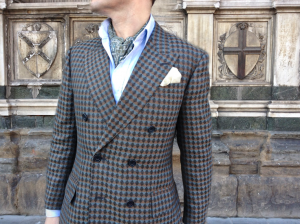 I was looking for something truly unique but not overtly showy (I didn't want to upstage the bride after all!) – and I was sure that I'd found it. Needless to say King & Allen now stock Dashing Tweeds cloths – please mention when you book that you'd like to see them and we will have the swatches brought to your appointment.
Having chosen the cloth it was time to order the suit, which I did at our Surbiton showroom.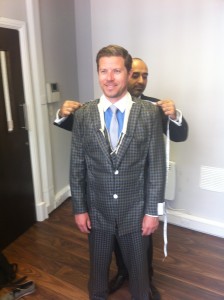 As with the ushers' suits, the jacket and trouser design was very classic, but it was the waistcoats that really had flare.
I had researched this at great length and I am confident that the waistcoat was an entirely unique design, and had never been created before. For although it was a scoop-neck, the waistcoat also had a shawl lapel.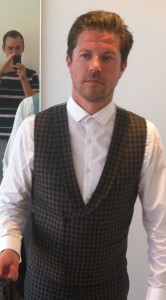 Most tailors will tell you that this is impossible (how can you fold a crease that isn't straight?) but our team came up with a very clever solution, and the result was a magnificent garment that I will treasure forever.
Finally, to compliment the look I wore an Edwardian style round collared shirt in a sea island cotton and one of our tailors was kind enough to make me a tie from a piece of the cloth used to make the bridesmaid dresses. This cloth matched my lining perfectly, so rather than having to search for a pocket square all I had to do was simply full the specially designed lining from my welt pocket (this is a feature of all King & Allen suits).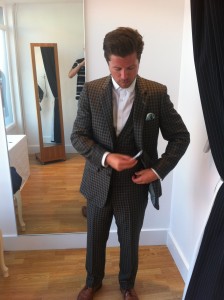 To compliment mine I had exactly the same suit made for my best man – in the same pattern but in a different colour. His suit was red and burgundy which perfectly reflected the burgundy running through the ushers suits.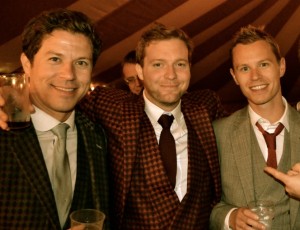 I am delighted to say that unbeknownst to me (until afterwards) the wedding style was used in a recent article in MenStyleFashion.com about how to wear burgundy.
The Colour palette in summary:
• The bride wore ivory.
• The bridesmaids wore teal.
• The Groom: dark grey and teal check; Teal lining; Teal Tie; Teal Pocket square.
• The Best Man: dark grey and burgundy check; Burgundy lining; Burghundy Tie; Burghundy Pocket Square.
• The Ushers: light grey price of wales with a subtle burgundy over-check; Burgundy lining; Burgundy Tie; Burgundy pocket square.
The price:
• 3 piece suit in full canvas COM = £779
• 3.5 metres of Dashing Tweeds cloth @ £90 a meter = £315
• Shirt in sea island cotton = £130
• Tie – A gift from King & Allen
• Pocket watch – £6 (from a market)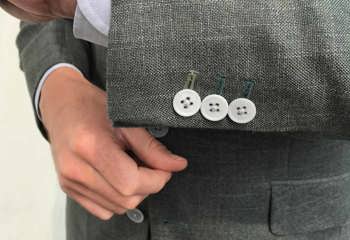 07 November 2019
November is World Vegan Month, when vegans around the world celebrate their lifestyle choice and champion others to do the same. And it seems more and more of us are making the switch. In 2018, there were 3.5 million registered vegans in the UK, up from around 540,00 in 2016, according to a study by The Vegan Society, which just happens to be celebrating its 75th birthday in 2019.
Style Tips & Advice
Celebrity Style
28 October 2019
When it comes to style superstars, there is none more seminal, more chameleon-like and more innovative than David Bowie. As you may remember, we included the iconic star's ever-evolving look in our recent blog post on the suits that rocked. That's why we were over the moon when Professor of Film and Cultural Studies, Dr Will Brooker, approached us to make a copy of Bowie's legendary mustard-yellow suit.
Celebrity Style
King & Allen News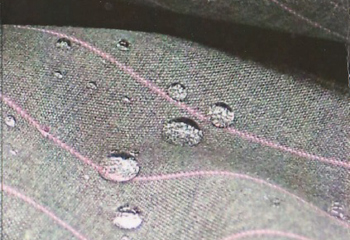 27 October 2019
Creating the perfect suit starts with a high-quality fabric. That's why we work closely with renowned  luxury cloth merchant, Holland & Sherry, to make sure we have the world's best possible cloths available for our clients. While we place great value on traditional methods – for example some of Holland & Sherry's pattern weaving hasn't changed in 200 years – we also believe in keeping one eye firmly on the very latest bespoke tailoring technologies.
Style History
King & Allen News