The Siege of Savile Row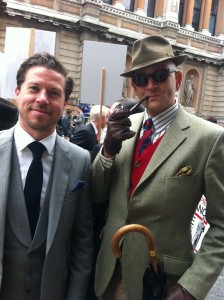 This morning I popped down to Mayfair to report on the Chap Magazine's 'Siege of Savile Row'. They have been drumming up support recently for a petition to stop American teen sportswear brand Abercrombie and Fitch from opening a childrenswear store at Number 3 (next to Gieves and Hawkes), culminating in a protest outside the proposed store to coincide with St George's day.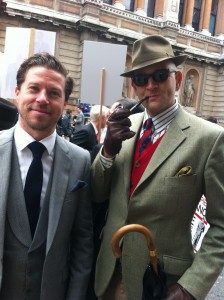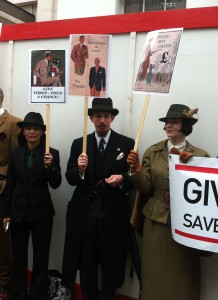 The Siege of Savile Row

King & Allen and the old guard of Savile Row have never been the best of compatriots (they seem to have some issues with our pricing!) but we have always had tremendous respect and admiration for the job they do, the principles they uphold, and the position they have in England's proud heritage.
It does seem a shame that an American company should be able to 'buy in' to the name of Savile Row when they have no claims to its bespoke traditions. It makes me sad to think that more big brands could lay claim to such an established brand as 'Savile Row' and sully its reputation.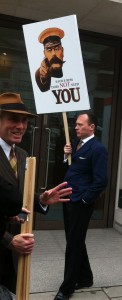 I'm glad that people came out to protest today. I'm glad that the press were there and I hope they report on it. It's important that when a big business attempts to cash in on hundreds of years of tailoring heritage, they are embarrassed like they were this morning.
What's all the more worrying is that Abercrombie's move will raise the already extortionate rents that the shops pay on the Row and force some of the traditional tailors elsewhere. The twisted irony of this situation, of course, is that within a couple of generations the term 'Savile Row' would mean nothing at all.
21 September 2020
The navy blue suit is an absolute must in anyone's wardrobe. Versatile, flattering and classically stylish, we are absolute devotees of this most iconic and fundamental of suits.
Style Tips & Advice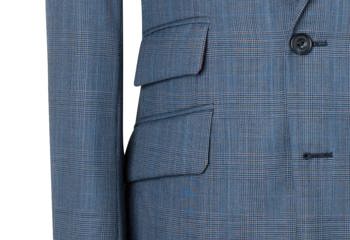 21 September 2020
The check suit is as varied and as unique as the people wearing it. At King & Allen, we are strong proponents of a beautifully-made check suit and, have found, in the last few years there has been a definite resurgence in the popularity of these garments.
Style Tips & Advice
Style History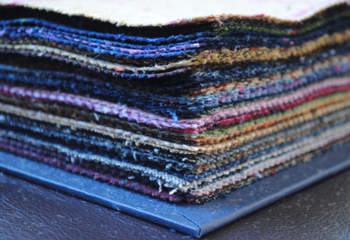 25 August 2020
Every Autumn we start thinking about our options for winter outerwear. Will it be a classic, three-button overcoat in camel? A tweed sports jacket? A double-breasted pea coat? With this in mind, King & Allen have decided to run a promotion with our cloth merchants, bringing a fantastic offer to our clients.
Style Tips & Advice
King & Allen News