The King & Allen guide to: Dressing for a job interview
Job interviews are nerve wracking enough without having to worry about how you look. You need to go in there knowing you look at the top of your game, so you can come across as competent and confident. Below are the King & Allen top 10 guidelines for making that fantastic first impression.
1) Colour
The colour of your suit will set the whole tone of a first impression. As a general rule, wear dark grey if you're going for a job that involves attention to detail, analysis or administration, and blue if the role is more about communication, sales or customer interaction. Nothing says serious business like charcoal grey, whilst blue is a warmer, more open colour that people trust. Black is too funereal for an interview and lighter colours are too casual. If you don't own a solid grey or solid blue suit don't worry if you have to go out and buy one – you'll get plenty of use out of it over the years. If it's bespoke it could last you a lifetime – even as your body shape changes.
2) Style
Keep the style simple and timeless and make sure it fits you like a glove. A bespoke suit is a must for a job interview: firstly, when your suit fits you perfectly it makes the world of difference to your appearance. Bespoke suits hide a multitude of sins, and can banish any body issues you may have with a simple chalk stroke. Secondly, bespoke touches such as working cuffs, contrast coloured stitching and side adjusters will indicate to your potential employer (who may well be a bespoke suit wearer) that you are a man of class and style. But be warned: this is not the opportunity to be showing off your latest 12cm chalkstripe! This is a job interview, so you need to dress appropriately – a clean, crisp 2 button with a 7 or 8 cm notched lapel is ideal. Enter the room with the first button fastened, make eye contact, shake hands, then unbutton the jacket smoothly as you sit. The gesture of unbuttoning is a sign of openness, and will allow you to sit more comfortably in your chair.
3) Shirt
Once again, it is important to keep the shirt simple. A light stripe against a solid grey or blue suit is acceptable, although you cannot beat a crisp, clean white shirt for simplicity. Be wary of your collar, that it compliments the knot of your tie – a wide spread (cutaway) is required for a large knot, but this style is not advised as it's a little passé.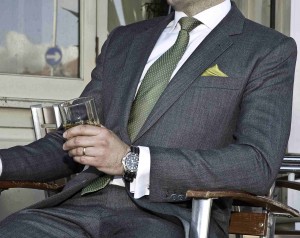 4) Shoes
We believe it's a misnomer that shoes have to be frightfully expensive to look good. This is not true. They just have to be expensive to look good for a long time. For an interview they just have to be clean and formal. Avoid anything that doesn't have laces, or any shoe which has a thick rubbery sole. Brogues are easy to get right, and look great. We would advise black shoes with a grey suit and dark brown with a blue.
5) Accessories
We would highly recommend keeping your tie simple whilst showing a little flare and adventure by wearing a pocket square that compliments the tie's colour. A knotted woollen tie with a silk square is both clean and classy, and will show that you take care of your appearance without being too showy. Otherwise, a simple tie clip looks great. Decide on one accessory only.
6) Hair & Grooming
Hair must be clean, freshly cut and brushed smartly – especially at the sides and the back. Either go clean shaven or, if you do wear stubble or a beard, make it clear that this is deliberate by grooming the neck, cheeks, eyebrows, nose and ears. Needless to say ensure you are clean and fresh before you leave the house.
7) Nails
Cut your nails neatly the night before, and use a wet wipe to clean them thoroughly. If you bite your nails it may be worth investing in some aversion fluid such as 'Stop n grow'. If you're nervous you'll be more tempted than ever so this will act as stark reminder!
8) Aftershave / deodorant
By all means spray on some aftershave before you leave the house, but ensure that the odour is subtle rather than overbearing. Make sure your anti-perspirent is odourless so that you can apply liberally, as you may be sweating more than usual. For this reason keep a dry handkerchief in your right pocket that you can squeeze before you go in – so that when you go to shake hands you are not clammy.
9) Bag
You've worked so hard on your look – don't spoil it by dragging in a rucksack or old gym bag. Every man should own a smart, modern and stylish gadget bag (Knomo do a great range). Even if you don't carry much around you'd be amazed how much you use it once you own one, and what a difference it makes to your confidence knowing that every aspect of your appearance is as good as it can be.
10) Timing
Finally – make sure you prepare for the interview the night before. Make sure that everything (especially accessories) are set up and ready to go and of course make sure your shirt is ironed, shoes are polished and trousers are pressed. Finally, hang the suit jacket up in the bathroom near (but not too near!) the shower. The moisture will eradicate creases and odours, so you are fresh, clean and looking sharp for that big first impression.
Good luck!
To discuss your individual needs please book an appointment or call us on 0800 027 4430.
"If you can talk with crowds and keep your virtue,
Or walk with kings — nor lose the common touch,
If neither foes nor loving friends can hurt you,
If all men count with you, but none too much;
If you can fill the unforgiving minute
With sixty seconds worth of distance run –
Yours is the Earth and everything that's in it,
And — which is more — you'll be a Man, my son!"
Rudyard Kipling
21 September 2020
The navy blue suit is an absolute must in anyone's wardrobe. Versatile, flattering and classically stylish, we are absolute devotees of this most iconic and fundamental of suits.
Style Tips & Advice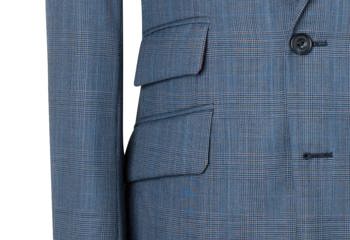 21 September 2020
The check suit is as varied and as unique as the people wearing it. At King & Allen, we are strong proponents of a beautifully-made check suit and, have found, in the last few years there has been a definite resurgence in the popularity of these garments.
Style Tips & Advice
Style History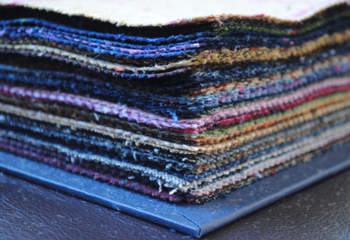 25 August 2020
Every Autumn we start thinking about our options for winter outerwear. Will it be a classic, three-button overcoat in camel? A tweed sports jacket? A double-breasted pea coat? With this in mind, King & Allen have decided to run a promotion with our cloth merchants, bringing a fantastic offer to our clients.
Style Tips & Advice
King & Allen News