The King & Allen Guide to: Designer Suits
A 'designer suit' by definition is one that has been created by a designer, but the phrase has become synonymous with fitted, stylish, modern suits. At King & Allen we define a suit as a 'designer suit' when all the contributing factors that go into it have combined successfully: the fit is right; the cut is right; the cloth is right; the style is right. The suit has elevated beyond the realms of a practical work tool or a smart outfit for events. The suit has distinguished itself (and therefore its wearer) to a higher, more stylish level.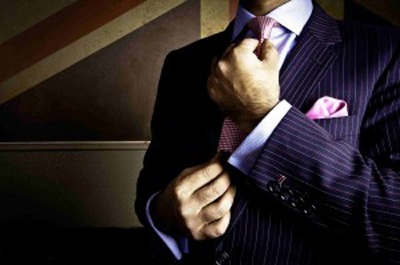 Features of a Designer suit
A designer suit is therefore usually more fashion focussed than, for example, a business suit or a formal suit. It has been cut more for form than function: for example, it may be more fitted at the waist than a workaday suit, and have slightly narrower shoulders.
The lapel may be a slightly narrower, and the gorge cut higher. The trousers may be more fitted along the leg and narrower on the shoe. A well tailored designer suit will still be comfortable, but you wouldn't want to kick a football around in it!


The Style of a Designer Suit
The style of a designer suit is down to the individual. Some designer suit wearers like the fit and the cut to do the talking and opt for a very simple cloth, perhaps in a midnight blue or a black. Others prefer to show more flare, with flashes of colour, for example, on the boutonnière or cuff buttons.There are no right or wrongs, and your tailor will guide you towards the right decision for your body shape and taste. The key is not to take things too far and risk 'overegging the pudding'. With the right advice that won't happen.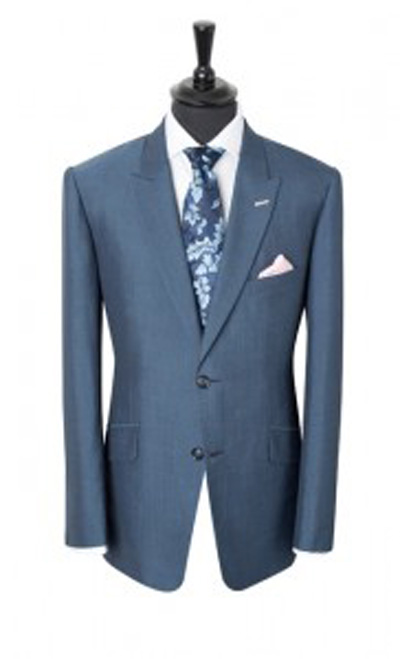 Uses for a Designer Suit
A designer suit could also be known as a 'social suit' – they are supposed to worn at social occasions, especially where dressing to impress is important. With this in mind they can often be split. The jacket will often work well with smart jeans and an open necked shirt, the trousers with a smart V neck pullover and brogues.
Add a waistcoat to a designer suit and a social occasion immediately becomes a special occasion, where clearly more sartorial effort than usual has been made. A designer suit is in this way far more versatile than a normal suit, and it is therefore worth paying a little extra for a high quality cloth and good tailoring.
Some designer suits are very understated – it's all about the cut.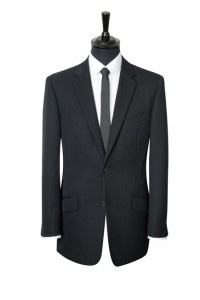 A word of caution:
A designer suit, being fitted all over, feels more pressure at the seams than a roomy suit, so good quality tailoring is essential. Wear on the trousers is inevitable, and often it is a good idea to order a second pair so that you can rotate.
Often customers will order the second pair in more of a regular cut, so that they have one pair which is slightly more practical.
The key to getting the perfect designer suit for you is to communicate with your tailor. By all means bring pictures to your appointment, or scroll through our Designer suits Look-Book – it's the perfect place to start.
To discuss your individual needs please book an appointment or call us on 0800 027 4430.
27 June 2019
Music and fashion have always been inextricably linked, with many catwalk collections drawing inspiration from rock and pop stars over the years. Here, we take a look at four of our favourite music legends, each with their own signature style, but all of whom really knew how to rock a suit.
Style Tips & Advice
Celebrity Style
Style History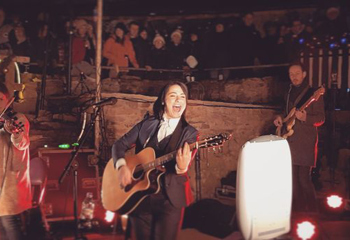 27 June 2019
June is Pride month. A chance to reflect on the strides made towards achieving equality and to acknowledge that there is still a way to go, as well as a time to celebrate the breadth and diversity of the LGBTQ+ community.
Style Tips & Advice
Celebrity Style
Style History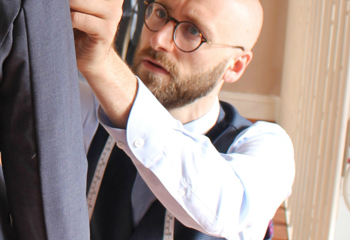 25 June 2019
When it comes to bodies, there's no such thing as a standard shape or size. Sure, plenty of us might have long legs or broad shoulders, but ultimately your proportions are unique to you. Is it any wonder, then, that so many people are left disappointed with the final fit when they choose an off-the-peg suit?
Style Tips & Advice