Suiting trends for 2012
Firstly I'd like to welcome you to King & Allen's all new blog. Expect to find style advice, competitions, and news and views from the world of bespoke tailoring, suiting and high end fashion.
If you enjoy this blog you may also enjoy the monthly newsletter I send to our King & Allen customers, The Stitch, which you can sign up for here. Or you can follow me on Twitter.
I hope you enjoy the blog and I welcome any feedback you may have.
I thought I would start the year by offering some Trend Predictions for 2012.
Introduction
These trends are based on talking to and observing the buying patterns of the hundreds of customers we have coming through our doors each year, and thereby taking an educated look at how the wardrobe of the trend-conscious suit-wearing male should look over the coming months. Since myself and my team give sartorial advice for a living, we make sure that the advice we give is well researched and trusted.
Furthermore, we believe that bespoke tailoring is an investment, so for this reason you won't find fleeting trends or passing fads. I hope you find the following of interest and if you would like a personal consultation (free of charge, with no obligation to buy) so that you can discuss how these trends may work for your requirements, body shape and budget please do get in touch.
2012 – the year the boundaries fell
The period of austerity that we seem permanently ensconced in these days will (sartorially at least) wind down in 2012. There has been a distinctive rejection over the last 2-3 years of the loud, brash suits of the pre-recession years to a style which is more sombre, understated, and respectful of the times. However, what we have seen since is a shift in casual clothing towards a more tailored, stylised form of dressing. In 2012 we will see this style transfer into our suit wearing, making the suit less of a work tool and more of an item of clothing we can be proud to wear.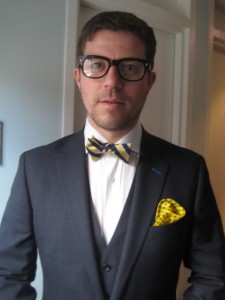 Dressing up a suit is not about looking rich and successful as it was in the pre-recession days. This style of dressing is not about vanity. It's about letting people know you care about your appearance, that you give thought and attention to what you wear and how you wear it. This is what I would call 'dapper elegance'.
1. Colour
One of the main changes we will see in the coming months is more colour and vibrancy in what we wear.
Towards the end of last year we saw a huge increase in demand for mid-weight wools in colourful checks and this will continue well into next year and beyond. These suits were always ordered with a waistcoat. This is not just because a 3-piece suit lends itself perfectly to this style of cloth… it is so that the suit can be split if necessary: the jacket and waistcoat can be worn with jeans, the trousers can be worn with a casual shirt / pullover. A perfect example of casual and smart working in unison.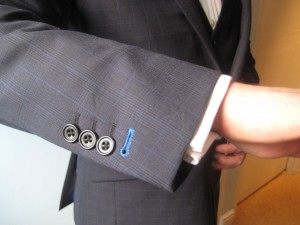 2. Accessories
Pocket squares have gained steadily in popularity in recent times but have predominantly been worn ice white, and very crisp. 2012 is the year to have more fun with colour, by adding to your welt pocket a pocket square that has sense of vibrancy and fun.
Other on trend additions that bring colour to a suit are a good set of (real) braces. No longer do they have the 'Greed is Good' connotations of pre-recession poseurs. Instead they doff a cap to 1950s Britain, when all suits were bespoke, men wore hats and there was no such thing as dressing down!
On a similar vein, expect to see the bow tie migrate back to the suit in 2012. What's great about a bowtie is that you can wear a pattern or style that you would never dream of sporting on a tie. As regular ties become increasingly understated and ordinary, the bowtie becomes a refreshingly playful way of livening up a classic suit.
3. Combinations
Mixing and matching jackets and trousers is extremely on trend for this year (and it's a great way of getting more wear out of your existing wardrobe!). For example, try combining a blue check jacket, grey trousers and a mustard pullover or cardigan.
The possibilities for combinations are endless – just be careful not to throw too much into the mix (belts and other accessories can ruin the look). The key message here is: keep it simple!
A perfect example of this 'the Riviera look' which will be very much in style this summer – blue, white or cream chinos matched with a lightweight blazer in plain cotton or seersucker.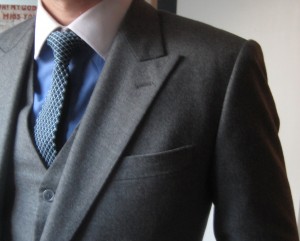 4. The 'must have' suit for 2012
A mid grey textured wool suit. Ideally the cloth is a medium weight worsted flannel: it is soft and comfortable but it holds it's drape very well, resulting in an extremely luxurious finish. However, a herringbone, a very thin pinstripe or even a tweed effect will work – so long as the grain of the cloth really stands out.
If you're having something tailored order a 3-piece, so you can split the suit up (it looks great with smart blue jeans) or wear it formally in all its glory. You can also wear the trousers with almost anything. The texture of the wool has a smart yet casual effect, and allows the opportunity for more colour in your other choices.
Thanks for reading. I would love to hear your thoughts, and welcome any feedback or suggestions for future articles.
I will be adding more observations on trends throughout the year, both on my twitter feed, and through The Stitch, the monthly newsletter I write, which you can subscribe to here.
All the best,
Adam King
16 January 2020
What's not to love about a wedding in the country? It's quintessentially British (think Four Weddings) and it's the perfect way to embrace the great outdoors in a relaxed environment. No wonder so many of us are opting to tie the knot in a rural setting.
Style Tips & Advice
Weddings
Country Style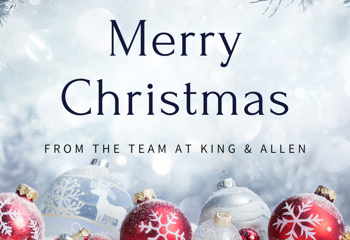 28 November 2019
To get you in the festive mood, we asked our four King & Allen consultants to tell us about their 2019 festive outfit (hint: they all involve a suit) and share their style tips for the perfect party mood...
Style Tips & Advice
King & Allen News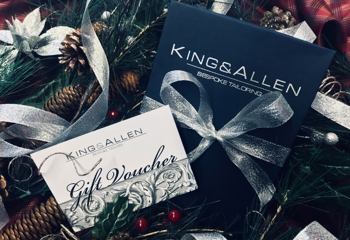 25 November 2019
It's been dubbed the Blue Planet effect - spurred on by Swedish teenage environmental activist Greta Thunberg and the rise of Extinction Rebellion. We are, of course, talking about growing consumer concern about issues such as single-use plastic and climate change...
Style Tips & Advice
Accessories
King & Allen News