James Bond's Hacking Jacket from Goldfinger is set for 're-release'
Tweed is back in the news again. The clever chaps at Harris tweed in Scotland have recreated the original pattern that James Bond's hacking jacket is made from in Goldfinger. The new cloth will also be lighter than traditional tweed so it can be worn all year round.
More significantly, much like Bond's gadgets, the cloth is constructed using the latest cutting edge technology. It will contain micro-particles of silver to repel bacteria, as well as Teflon-like particles which will make the cloth entirely water resistant – pretty useful for the British bank holiday!
The new technology will mean that the jacket should not require dry cleaning and should, if well looked after – last a lifetime. The only downside is the price. The jacket is only available from Anthony Sinclair (Bond's original tailor) and will cost between £2000 and £2500 – just for the jacket!
However, if you're interested in recreating this classic style but you don't have Auric Goldfinger's cash reserves, King & Allen offer a replica hacking jacket in a similar Harris tweed for just £660 (or a non-Harris tweed from £390).
Please contact us for further info.
The Ultimate hacking jacket – in Harris Tweed
26 September 2019
An increasing number of companies are adopting a less formal office dress code these days, with fewer businesses expecting their male employees to show up in a suit and tie. Instead, the new watchword is 'smart-casual'. But where does that leave the suit lover?
Style Tips & Advice
Business Style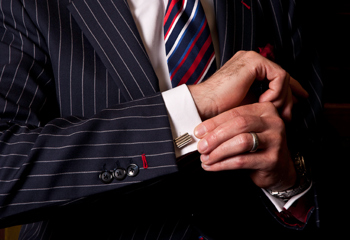 12 September 2019
The term 'pinstripe' refers to the very thin, parallel lines that run through a cloth, contrasting with the main colour. Taken at face value, it would seem to be a fairly bland description of a simple fabric pattern. But the history of the pinstripe suit is anything from bland and, indeed, the suit itself has a host of connotations attached to it.
Style Tips & Advice
Style History
27 August 2019
The new Peaky Blinders series is back with a bang and we're not just talking about the storylines. As ever, Tommy and his crew look as sharp as the razor blades the real-life Peaky Blinder gang were rumoured to stitch into the peak of their flat caps.
Style Tips & Advice
Celebrity Style
Style History