James Bond's Hacking Jacket from Goldfinger is set for 're-release'
Tweed is back in the news again. The clever chaps at Harris tweed in Scotland have recreated the original pattern that James Bond's hacking jacket is made from in Goldfinger. The new cloth will also be lighter than traditional tweed so it can be worn all year round.
More significantly, much like Bond's gadgets, the cloth is constructed using the latest cutting edge technology. It will contain micro-particles of silver to repel bacteria, as well as Teflon-like particles which will make the cloth entirely water resistant – pretty useful for the British bank holiday!
The new technology will mean that the jacket should not require dry cleaning and should, if well looked after – last a lifetime. The only downside is the price. The jacket is only available from Anthony Sinclair (Bond's original tailor) and will cost between £2000 and £2500 – just for the jacket!
However, if you're interested in recreating this classic style but you don't have Auric Goldfinger's cash reserves, King & Allen offer a replica hacking jacket in a similar Harris tweed for just £660 (or a non-Harris tweed from £390).
Please contact us for further info.
The Ultimate hacking jacket – in Harris Tweed
26 May 2020
Following the announcement by the Prime Minister on the 25th May, we will be reopening our Surbiton, Liverpool Street and Wilmslow stores on the 16th June.
King & Allen News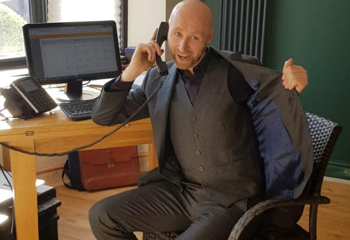 15 May 2020
We've put  together a brief guide and some resources for what to do once you've decided on a new date for your big day.
Style Tips & Advice
Weddings
14 May 2020
While we look forward to re-opening and helping you all find your fit for your special day, we also thought it might bring a smile to our follower's faces to see how some people have kept their lockdown weddings and celebrations going.
Style Tips & Advice
Weddings