Four Ways To Wear a Navy Blue Suit
The navy blue suit is an absolute must in anyone's wardrobe. Versatile, flattering and classically stylish, we are absolute devotees of this most iconic and fundamental of suits. Whether building a capsule wardrobe for work, deciding on your wedding suit or even just buying a casual jacket, navy blue is always one of the most popular choices for King & Allen customers. Read on to find four ways you can wear this time-honoured look.
Why a Navy Blue suit?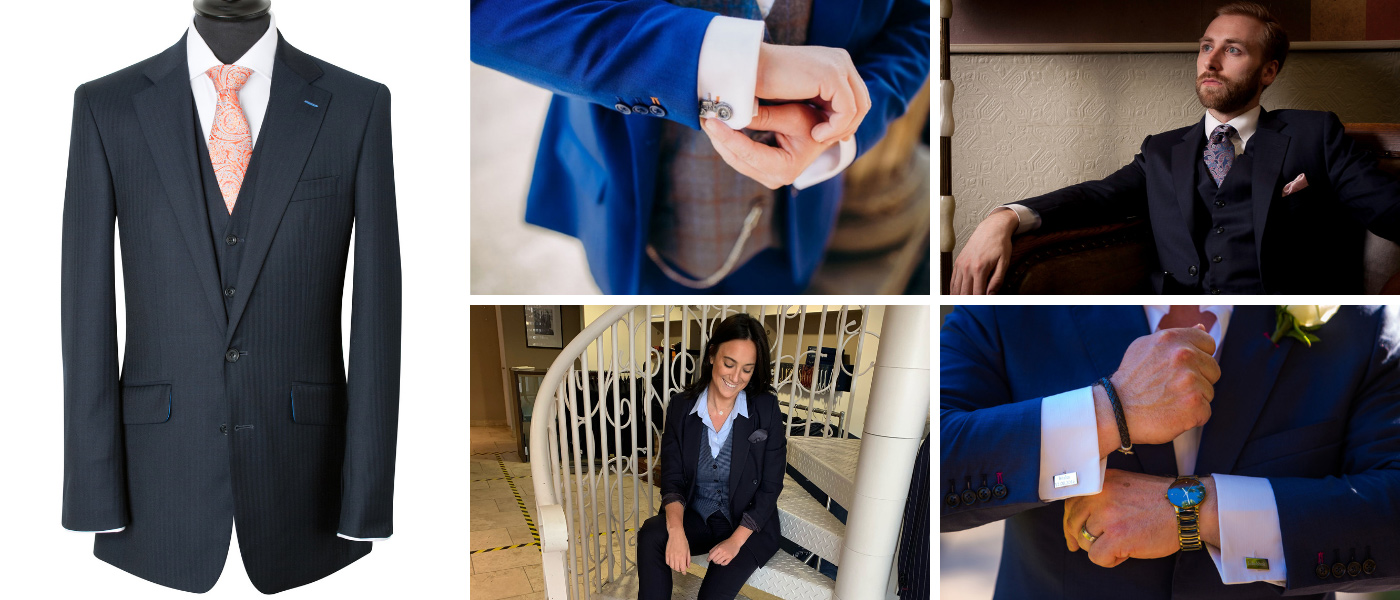 The term 'navy blue' has its origins in, you guessed it, the British Navy. In the mid-to-late eighteenth century, the Navy used the darkest shade of blue for its uniforms, to contrast with the naval white. It was originally named marine blue but quickly became known as navy blue. The navy blue suit then evolved from these early military uniforms and the colour was popularised by suit-innovators such as Beau Brummel. Cut to the twentieth and twenty-first centuries and the navy blue suit has become an integral part of most people's wardrobes.
Navy blue is a great, interesting alternative to black or grey, being both flattering and easy to match with different accessories. So what are the options for a navy blue suit?
The navy Blue Tuxedo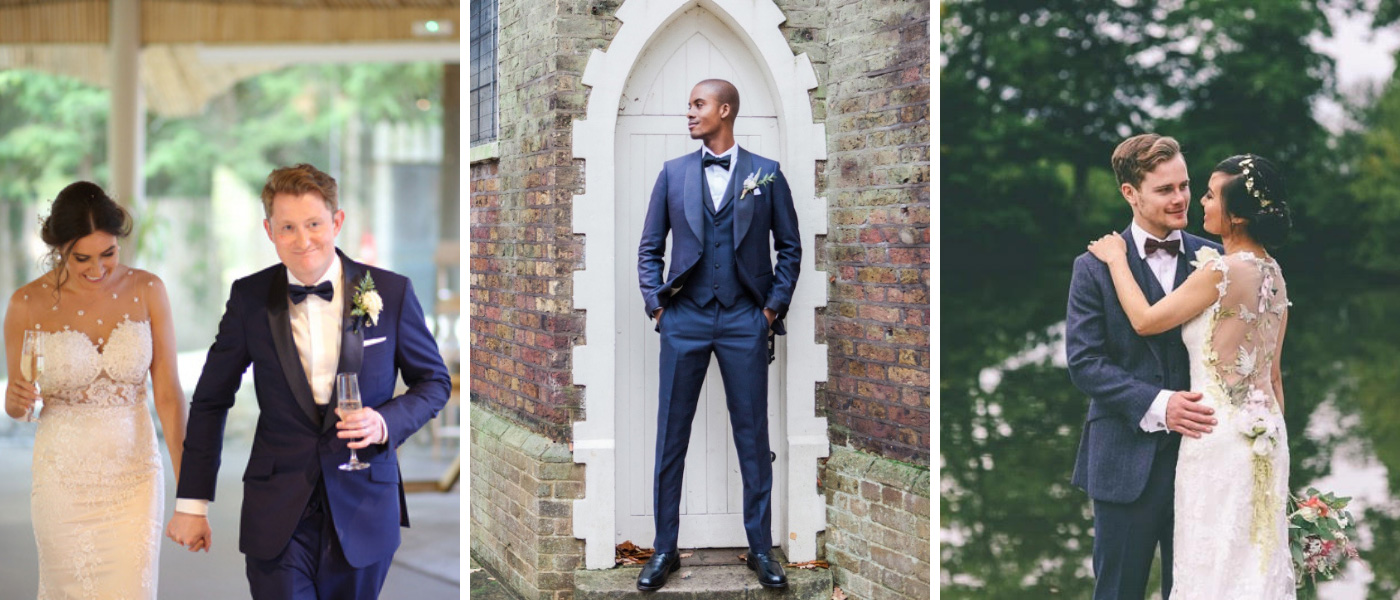 The ultimate in sartorial swagger, the navy tuxedo or dinner suit is a fantastic option for an event or a wedding. Traditionally made in black, to match coats and outerwear, it wasn't until the mid-twentieth century that the midnight blue and navy blue tuxedos became more widely worn. Pair it the navy with a midnight or black lapel collar for a look that's classic yet stylish and modern.
The Three-Piece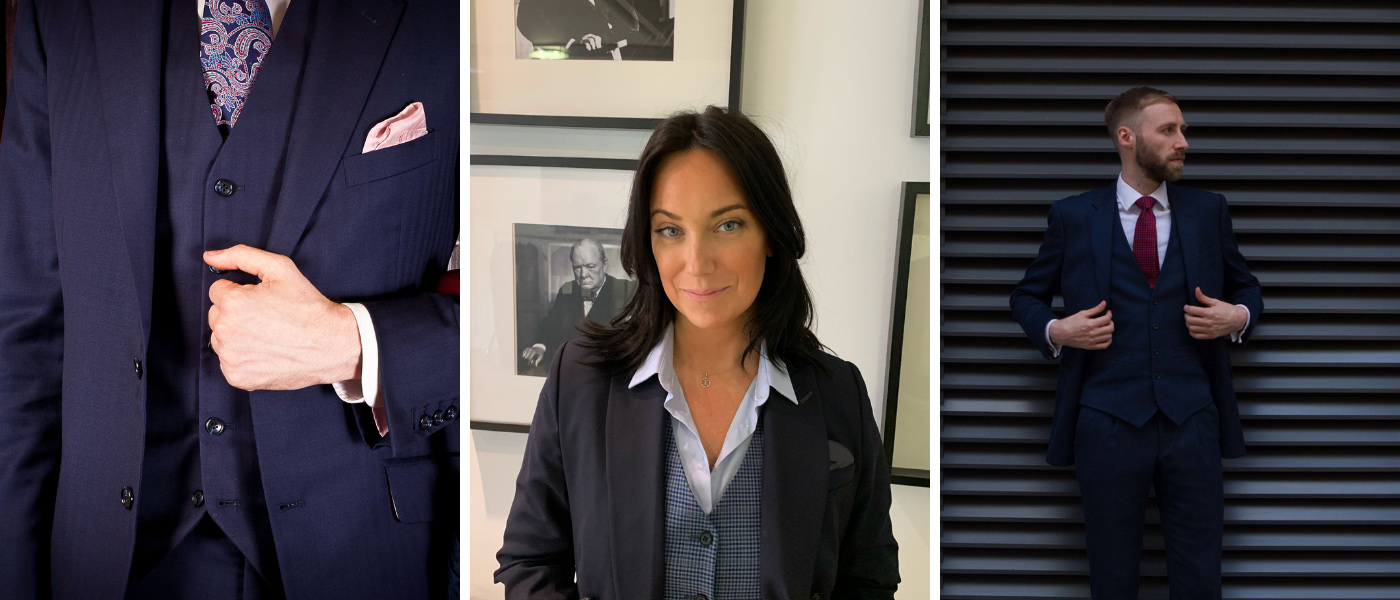 We are huge fans of a three-piece suit at King & Allen and, the versatility of a navy suit means that you can either opt for a single block of colour or choose to liven things up with a contrast waistcoat or contrast trousers. 
a bold contrast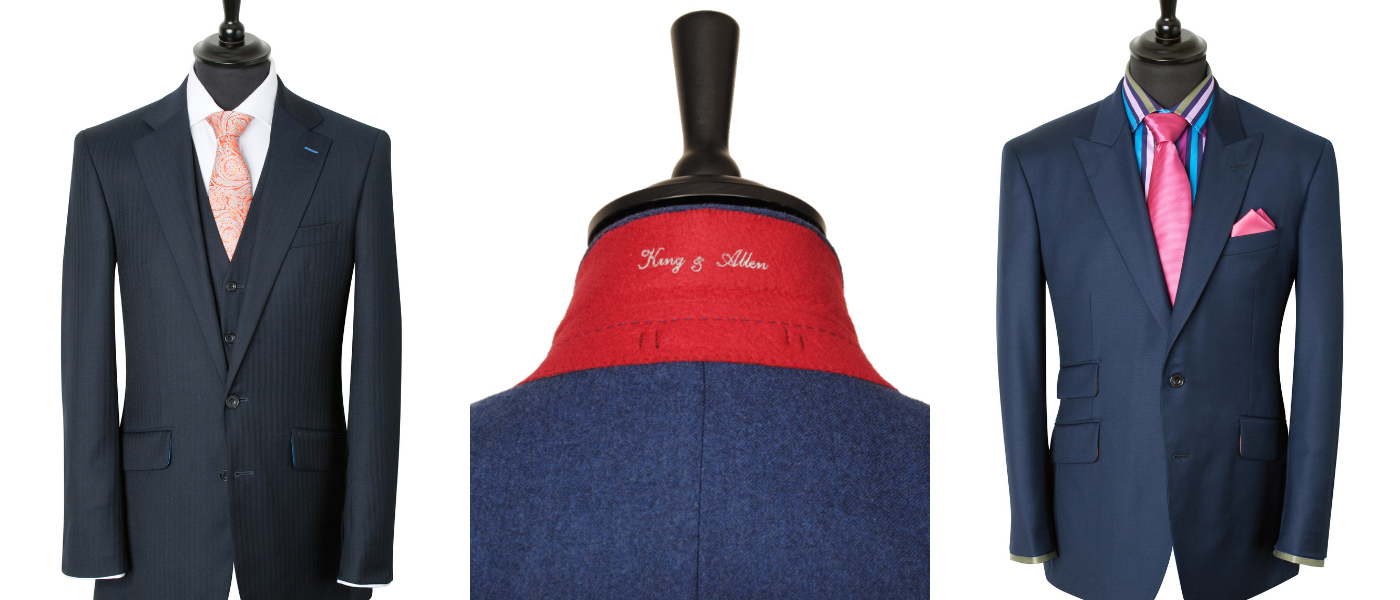 The beauty of navy is that it goes with most other colours and, with the right contrast, can look quite striking. This can be done in the structure of the suit itself, with a contrast lining, or melton (as pictured above) or with accessories, such as a paisley tie, a bright pocket square, or even with a shirt in a contrasting colour. 
Stripes and Checks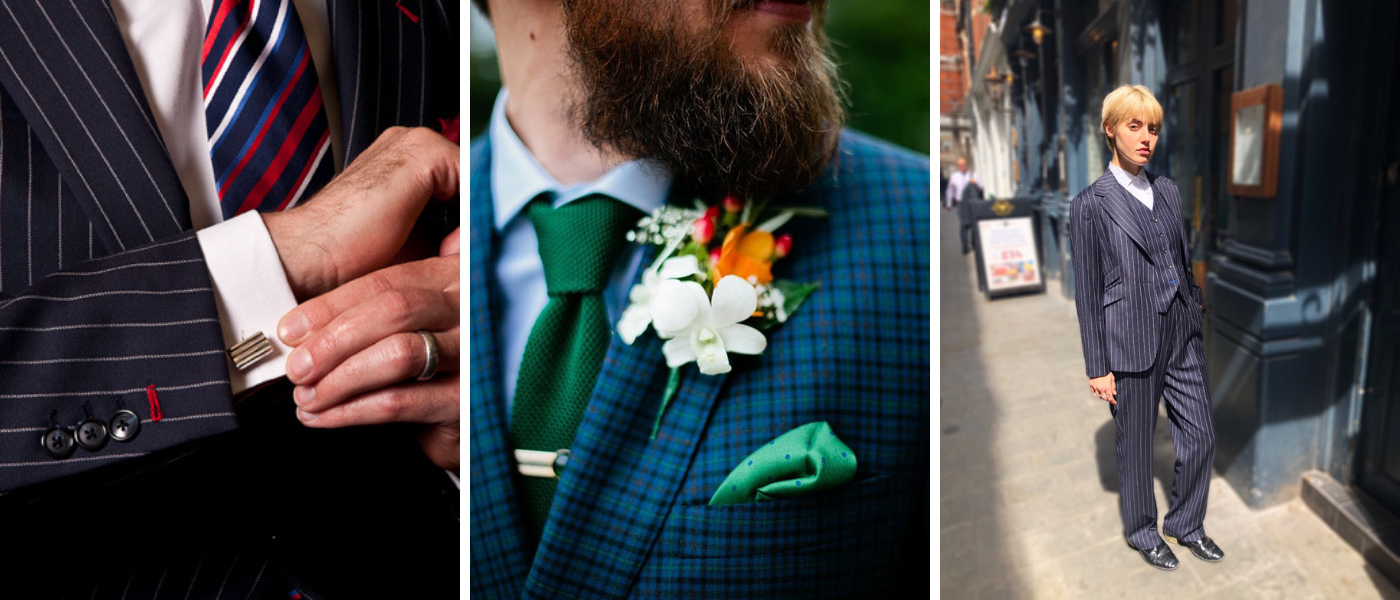 Finally, navy blue can look really stunning when paired with a pattern such as a stripe or a check. The classic navy pinstripe is a look we're really fond of and, for a wedding suit, a blue check can really make a statement on your big day!
If you'd like to come in and see us for a free consultation, to discuss your navy blue suit, or indeed anything else, please contact us today or book a fitting here.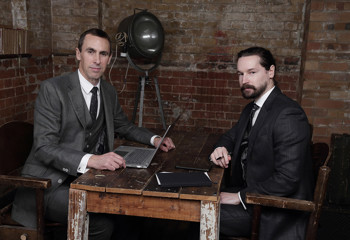 13 January 2022
There is no doubt about it. Veganism is thriving. Statistics from The Vegan Society show that the number of people choosing a plant-based diet quadrupled between 2014-2019. One of the ways in which people have discovered veganism is through Veganuary. Read on to find out more and take a look at our great offer on vegan suits this January!
Style Tips & Advice
Vegan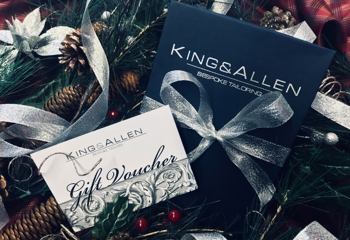 22 November 2021
With Christmas fast approaching, take a look at our gift recommendations for the suit-lover in your life. From vouchers, to pocket squares, to cufflinks, you need look no further for the perfect Christmas present!
Style Tips & Advice
King & Allen News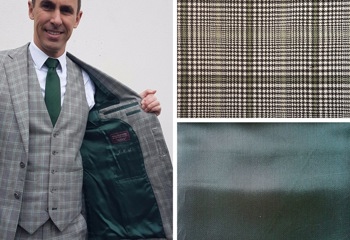 11 October 2021
The lining of the suit is often overlooked but, at King & Allen, this is often one of the most fun moments for our customers. 'The lining choice is a chance for you to show some flair,' says Jake Allen, 'even if your suit is quite plain, the lining can really liven it up and show off your individuality.' We've outlined some cloth and lining pairings below, to give you some inspiration for your next suit!
Style Tips & Advice