Icon of the Month, Sam Smith
English singer-songwriter Sam Smith has had an incredible year. Last week alone the 22 year old scooped up all four of the MOBOs he was nominated for and the Q award for best newcomer, and with the Grammys and the Brits fast approaching he'll no doubt be placing more strain on his trophy shelf in the near future.
His style is very distinctive. Simple, clean and consistent, he is an example of a celebrity who has taken a look they like and stuck with it. For almost all public appearances he wears a dark suit with a white or dark shirt, buttoned up to the collar – with no tie. The style perfectly complements his body shape, his music and his personality, and he reminds us that if you find a look that suits you sometimes it's best not to stray too far.
Feeling inspired? Call 0800 0274430 or contact us here for more information about King & Allen. We have fitting locations in London: Liverpool St, Wilmslow and Surbiton. We also take appointments on Savile Row by appointment only.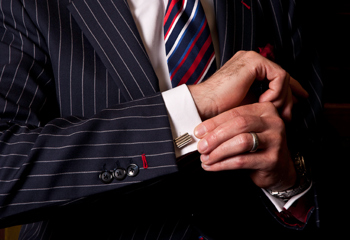 12 September 2019
The term 'pinstripe' refers to the very thin, parallel lines that run through a cloth, contrasting with the main colour. Taken at face value, it would seem to be a fairly bland description of a simple fabric pattern. But the history of the pinstripe suit is anything from bland and, indeed, the suit itself has a host of connotations attached to it.
Style Tips & Advice
Style History
27 August 2019
The new Peaky Blinders series is back with a bang and we're not just talking about the storylines. As ever, Tommy and his crew look as sharp as the razor blades the real-life Peaky Blinder gang were rumoured to stitch into the peak of their flat caps.
Style Tips & Advice
Celebrity Style
Style History
23 August 2019
Nothing pulls an outfit together more than the addition of an overcoat. It's been a staple in the fashion landscape for years and has recently had something of a resurgence in the public imagination...
Style Tips & Advice
Celebrity Style
Style History