Icon(s) of the Month: The London Fashion Week Men's Ambassadors 2017
If you're a regular reader of the King & Allen Journal, you will know that every month we award a particularly well-dressed fellow the title of "Icon of the Month".
This month, we are mixing it up by crowning a whole group of people the title: namely, the ambassadors for London Fashion Week Men's.
The ambassadors are a select group of influential people within the menswear industry, drawn together by Dylan Jones – the editor of GQ magazine.
Here are some of our favourite tailored looks worn by them…
Our Favourite Tailored Looks Worn by the LFWM Ambassadors
David Furnish
Filmmaker and husband of Elton John, David Furnish was made an ambassador of London Fashion Week Men's this month, and rightly so when he wears incredible suits like this!
Here, he is wearing a lightweight linen suit in a double-breasted style. The brown horn buttons are a lovely detail and the colour of his shirt works beautifully with the sandy colour of the suit cloth.
One of our golden rules about ties and pocket squares is that they should never match; instead, they should complement one another. Mr Furnish has executed this perfectly.
Hu Bing
Hu Bing is a Chinese actor, model and singer. He was the first Chinese male model to walk the international runway, paving the way for models like Hao Yun Xiang, Simon Tham and Zhao Lei.
Now, he is an ambassador of London Fashion Week Men's. This grey three-piece suit is incredibly classic in a subtle windowpane check with wide peak lapels. It's the kind of suit you could wear to all kinds of events: formal and casual alike.
Unfortunately, the fit is not great here! The glimpse of shirt and, even worse, tie (a cardinal sin!) beneath his waistcoat is a real shame. He either needs to pull up his trousers or get a longer waistcoat!
Tinie Tempah
We've written about the world's most stylish rapper before. Tinie Tempah is a man who has a distinct sense of style that he stays true to. Often found in suits, he continues to inspire with his unique take on tailoring.
He has been an ambassador at London Fashion Week Men's since 2015, having attended the shows for years. Today, we wanted to highlight this lovely overcoat he was snapped wearing. In black bouclé cloth, the silhouette is simple and clean without pocket flaps or fussy detailing. He wears it with the ever-popular roll neck sweater.
If you'd like to see more fantastic suits worn by Tinie Tempah, click on the aforementioned article above.
David Gandy
I doubt Mr Gandy needs much introduction. The famous model has been featured in countless ad campaigns since winning his first modelling contract in a televised competition on "This Morning" in 2001. Can you believe that it was Richard & Judy that gave him his big break?!
He has been an ambassador for London Fashion Week Men's since 2012, having championed the British tailoring industry throughout his career.
In this photograph, he wears a pale grey windowpane check two-piece suit with a two-button fastening. He styles the suit simply with a crisp white shirt, navy polka dot knit tie and a dark blue pocket square. This is how it's done, chaps…
For more Gandy-related inspiration, one of our most-read articles is the top ten three-piece suits worn by David Gandy.
Dylan Jones (far left)
We couldn't write about LFWM without including Dylan Jones, GQ magazine editor and chair of the whole event.
As editor of one of the UK's top men's magazines, it's no surprise to see that Mr Jones has fantastic style. Here, he is wearing a classic double-breasted suit in a colour we can only describe as, "greige". The cloth features a tonal check, which the dark brown horn buttons highlight beautifully.
We're not convinced about that high-neck shirt, though – it all feels a little too Harry Hill for us!
Nick Grimshaw
Nick Grimshaw is a radio and television presenter, who you might know best from his spell as a judge on 'The X Factor.'
Ever the menswear aficionado, Grimshaw's style can sometimes err on the too-tight, too-trendy side of fashion, however, we rather liked this look he wore as an ambassador at London Fashion Week Men's this month.
The mid-blue tweed jacket worn with the subtly checked navy waistcoat is a lovely example of how to wear separates. The white and blue polka dot shirt is unexpected but adds a touch of fun to quite a traditional aesthetic. We only wish that he'd worn some tweed trousers with it to complete the look!
Dermot O'Leary
Dermot has come a long way since his 'T4' days of baggy t-shirts and cargo trousers. These days, he is a man of great style, often found in an assortment of great tailoring.
We love this simple, monochromatic look worn by the TV presenter here. The suit is slim-fitting, but not tight – the perfect balance for those looking for a streamlined suit. He wears it with a black roll neck sweater – very Andy Warhol!
Inspired to Dress Better?
We'd love to make you a bespoke suit. Not only will it fit you better than any suit you have ever owned, but it will have more structure and shape.
For more information, book a free consultation with your own personal tailoring consultant.
27 June 2019
Music and fashion have always been inextricably linked, with many catwalk collections drawing inspiration from rock and pop stars over the years. Here, we take a look at four of our favourite music legends, each with their own signature style, but all of whom really knew how to rock a suit.
Style Tips & Advice
Celebrity Style
Style History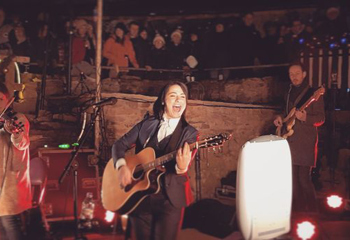 27 June 2019
June is Pride month. A chance to reflect on the strides made towards achieving equality and to acknowledge that there is still a way to go, as well as a time to celebrate the breadth and diversity of the LGBTQ+ community.
Style Tips & Advice
Celebrity Style
Style History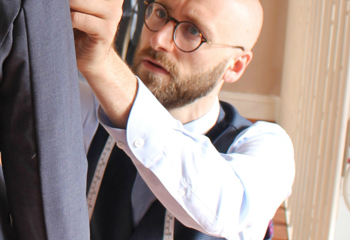 25 June 2019
When it comes to bodies, there's no such thing as a standard shape or size. Sure, plenty of us might have long legs or broad shoulders, but ultimately your proportions are unique to you. Is it any wonder, then, that so many people are left disappointed with the final fit when they choose an off-the-peg suit?
Style Tips & Advice