King & Allen Photoshoot with Bridal Chic in the City
Dear readers, it is a delight to introduce our guest blogger, Nicole Borneuf of Bridal Chic in the City. Nicole is a wedding blogger, based in Manchester, who is passionate about promoting talented, independent businesses within the wedding industry.
When Nicole contacted Karl Lewis, the manager and tailoring consultant at our Wilmslow store, about being involved in a photoshoot she was planning, we jumped at the chance to work with her.
The resulting photos are wonderfully raw, and very different to the usual shoots we are involved in, so we asked Nicole to share her experiences in this week's blog post.
Take it away, Nicole!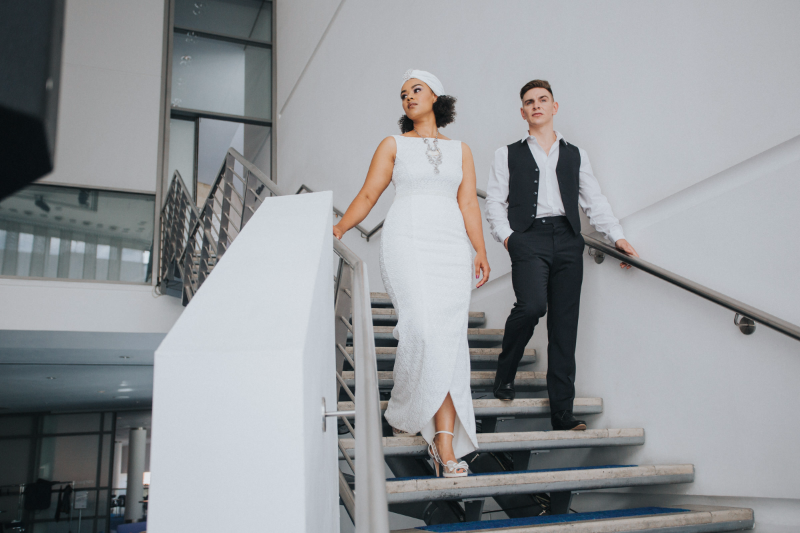 It's never about the groom; it's always about the bride… weddings, that is. Historically, grooms just don't get a look in.
However, these days, grooms are getting more and more interested in the styling of their wedding and more importantly, the styling of themselves. They are not leaving it to their other halves anymore. They want their say, and why not? From the grooming to the suit, the groom is just as much on wedding countdown.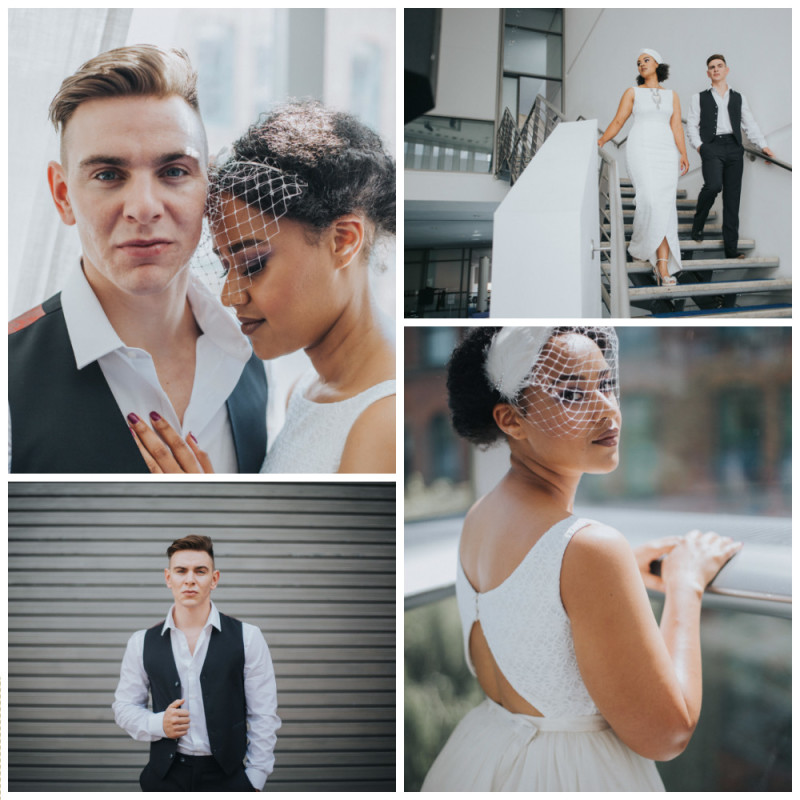 In this photoshoot, we wanted to explore how a wedding suit can be worn as a unique reflection of your own personal style. This shoot was just as much about the suit as it was about the dress.
At Bridal Chic in the City, I have a handful of go-to models who are happy to shoot for me, and Aaron, my model for the day, was someone I had wanted to use in my styled shoots for a while. Very much a lad; I wanted to capture his personality within the shoot with no posing, no pouting… just au natural.
The results were amazing. Our photographer for the day was Stephen Mcgowan. We have met many times and I have admired his work from afar.
This is one of my favourite shots ever. It sums him and many other grooms up completely. We styled him in the suit without a tie to give that "I've just got married. Phew, it's done!" vibe.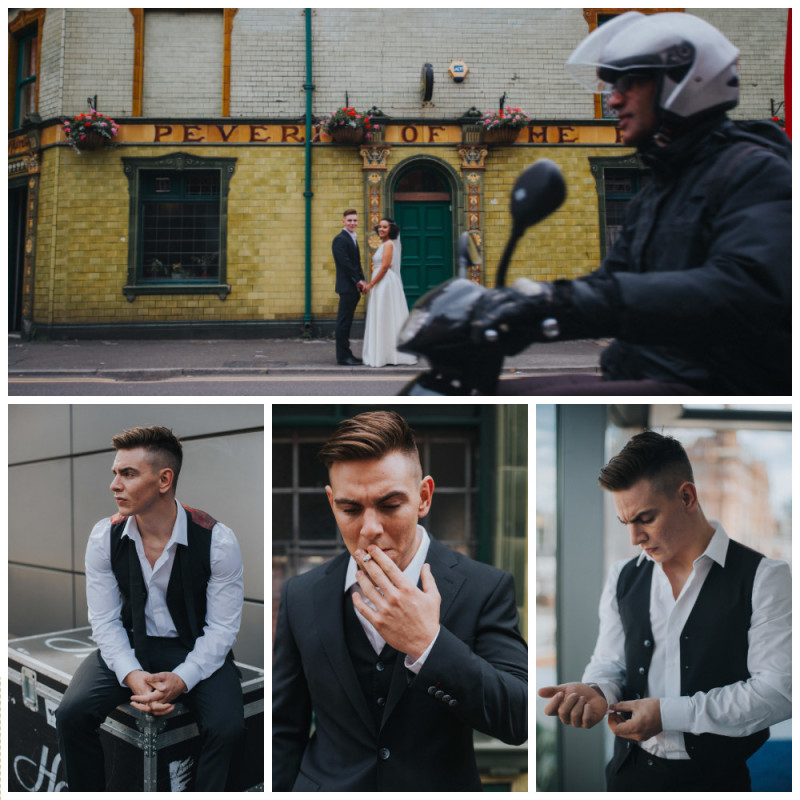 Most of the shoot was based around The Bridgewater Hall, however we did manage to take a couple of photos with one of the oldest pubs in Manchester, The Peveril of the Peak.
About the Suit
Perennial Classics
644053
Perennial Classics
644057
Perennial Classics
644060
The King & Allen suit, worn by Aaron, was styled by Karl Lewis from King & Allen, Wilmslow. The cloth is a beautiful 9oz 2/2 twill cloth in black, called 'Perennial Classics' by Holland & Sherry.
This cloth is on the lighter end of midweight, making it suitable to wear most of the year, but to be avoided on very chilly days. A 3 piece suit in this would be £899 in our modern bespoke construction and £1299 in our traditional bespoke construction.
If you'd like us to send you a free fabric sample of any of these cloths, please contact us, quoting the cloth code (hover over image to get this) and your address.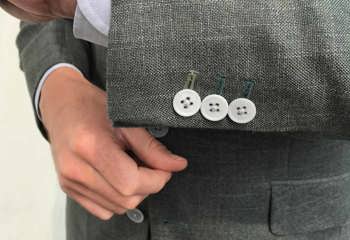 07 November 2019
November is World Vegan Month, when vegans around the world celebrate their lifestyle choice and champion others to do the same. And it seems more and more of us are making the switch. In 2018, there were 3.5 million registered vegans in the UK, up from around 540,00 in 2016, according to a study by The Vegan Society, which just happens to be celebrating its 75th birthday in 2019.
Style Tips & Advice
Celebrity Style
28 October 2019
When it comes to style superstars, there is none more seminal, more chameleon-like and more innovative than David Bowie. As you may remember, we included the iconic star's ever-evolving look in our recent blog post on the suits that rocked. That's why we were over the moon when Professor of Film and Cultural Studies, Dr Will Brooker, approached us to make a copy of Bowie's legendary mustard-yellow suit.
Celebrity Style
King & Allen News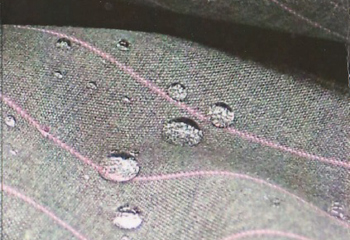 27 October 2019
Creating the perfect suit starts with a high-quality fabric. That's why we work closely with renowned  luxury cloth merchant, Holland & Sherry, to make sure we have the world's best possible cloths available for our clients. While we place great value on traditional methods – for example some of Holland & Sherry's pattern weaving hasn't changed in 200 years – we also believe in keeping one eye firmly on the very latest bespoke tailoring technologies.
Style History
King & Allen News