Icon of the Month – Leonardo DiCaprio
It has been a long time coming, but Leonardo DiCaprio finally got the award he's been waiting for all these years… King & Allen Icon of the Month!
When Leonardo DiCaprio first found mainstream success in the late 1990's, he had a real passion for three button suits, which he would often wear with just the top button done up – a style that hadn't been in fashion since the turn of the previous century! Nowadays, however, his suit choices are modern, stylish and actually quite conservative: he favours 2 button lounge suits (albeit cut quite high) in a royal blue worsted wool/silk blend for a smooth finish. The blue is a great choice as it compliments his blond hair and blue eyes. We would highly recommend this style for a wedding suit (especially in three piece) or if you have a job which is customer facing / sales related.
26 September 2019
An increasing number of companies are adopting a less formal office dress code these days, with fewer businesses expecting their male employees to show up in a suit and tie. Instead, the new watchword is 'smart-casual'. But where does that leave the suit lover?
Style Tips & Advice
Business Style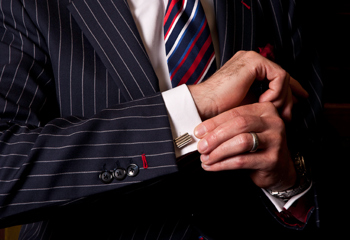 12 September 2019
The term 'pinstripe' refers to the very thin, parallel lines that run through a cloth, contrasting with the main colour. Taken at face value, it would seem to be a fairly bland description of a simple fabric pattern. But the history of the pinstripe suit is anything from bland and, indeed, the suit itself has a host of connotations attached to it.
Style Tips & Advice
Style History
27 August 2019
The new Peaky Blinders series is back with a bang and we're not just talking about the storylines. As ever, Tommy and his crew look as sharp as the razor blades the real-life Peaky Blinder gang were rumoured to stitch into the peak of their flat caps.
Style Tips & Advice
Celebrity Style
Style History