Icon of the Month – Tom Hiddleston
You have to feel sorry for Tom Hiddleston. Just as his rumoured romance with pop royalty Taylor Swift hits the tabloids, the global political stage implodes and no one pays a blind bit of notice. Still, we've all had a difficult month…
Regardless of 'Hiddleswift' column inches, there's no denying that the young British actor's star is on the ascension. After the global success of The Night Manager, Hiddleston is the bookies' favourite to be the next James Bond (currently 2/1). This is in part thanks to some outstanding suit wearing, both on and off the show.
Tom Hiddleston's Suits
Just like the incumbent Bond, Hiddleston wears suits that compliment his blond hair and blue eyes – focusing on mid-blues and light greys: always in two button, single breasted. Like so many of our Icons across the years, Hiddleston loves a waistcoat, and although he's no trend setter, everything he wears is simple, smart and fits beautifully. If you like your tailoring elegant and understated, he's definitely one to watch.
Get inspired! Below are a selection of our favourite Tom Hiddleston suits:
26 September 2019
An increasing number of companies are adopting a less formal office dress code these days, with fewer businesses expecting their male employees to show up in a suit and tie. Instead, the new watchword is 'smart-casual'. But where does that leave the suit lover?
Style Tips & Advice
Business Style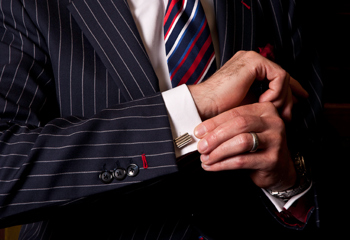 12 September 2019
The term 'pinstripe' refers to the very thin, parallel lines that run through a cloth, contrasting with the main colour. Taken at face value, it would seem to be a fairly bland description of a simple fabric pattern. But the history of the pinstripe suit is anything from bland and, indeed, the suit itself has a host of connotations attached to it.
Style Tips & Advice
Style History
27 August 2019
The new Peaky Blinders series is back with a bang and we're not just talking about the storylines. As ever, Tommy and his crew look as sharp as the razor blades the real-life Peaky Blinder gang were rumoured to stitch into the peak of their flat caps.
Style Tips & Advice
Celebrity Style
Style History