Belt Loops vs Side Adjusters: How to Wear Your Suit Trousers
It's the age-old debate for suit lovers everywhere. Belt loops vs side adjusters: which is more appropriate?
Traditionally, belt loops are the casual option, whilst side adjusters offer a more formal touch to trousers and suits. But is this still true today?
There is an old proverb on Savile Row that states, "A gentleman should never wear a belt." A bespoke suit will fit regardless, so why spoil the line of a well-fitting suit with a belt?
Are they correct?
If you're about to purchase a new suit, but don't know which style to choose, read on. This article will guide you to the best option for you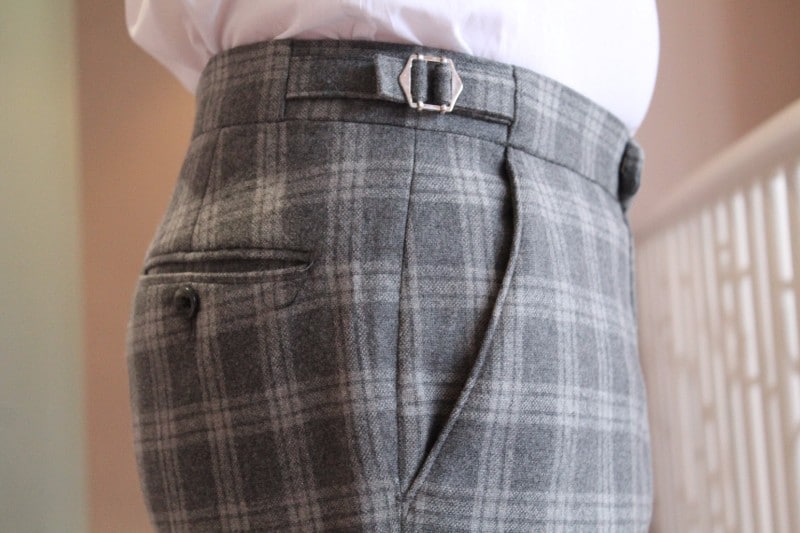 Belt Loops vs Side Adjusters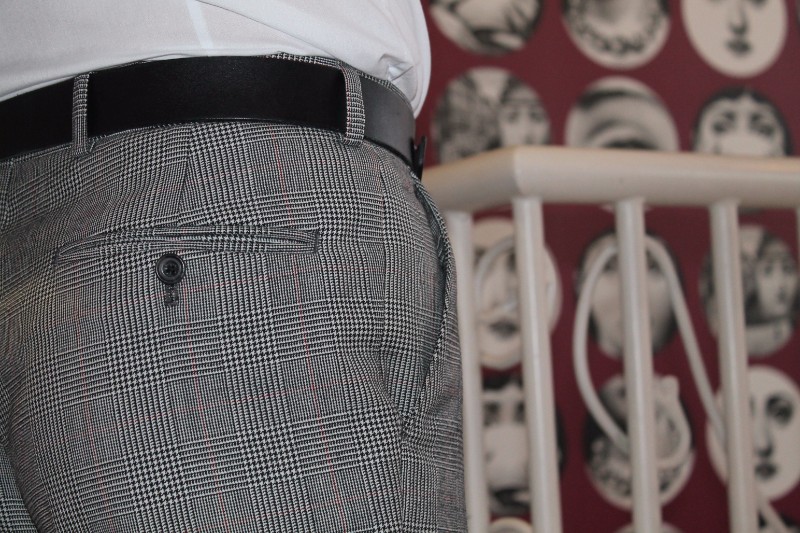 Are belt loops ever acceptable on bespoke suit trousers?
Firstly, if you already own a pair of trousers that have belt loops, please wear a belt with them. Otherwise, it will look like you forgot to get dressed properly.
Whilst a well-fitting bespoke suit has no practical need for a belt, for some, a belt looks more interesting than a plain waistband. Belts unquestionably add colour and texture to an ensemble. If you rely upon your belt to add visual excitement to your suit, match your shoes to your belt to pull it all together.
One thing to note is that a belt breaks up the body making you look shorter. Whilst this might not be a positive thing for some, it works very well for those who are extremely tall.
Why are side adjusters so popular?
First of all, let's all admit that belts are not very comfortable. If you sit for extended amounts of time in an office, the belt buckle can dig into your stomach.
Furthermore, belts don't feel as polished as side adjusters. They look unsightly where the waistband gathers and folds, which is unavoidable when your trousers are a little loose.
When a pair of trousers fit you correctly, there is no need to wear a belt. Whilst it is true that most people's waistlines fluctuate throughout the day, this can easily be accommodated with side adjusters.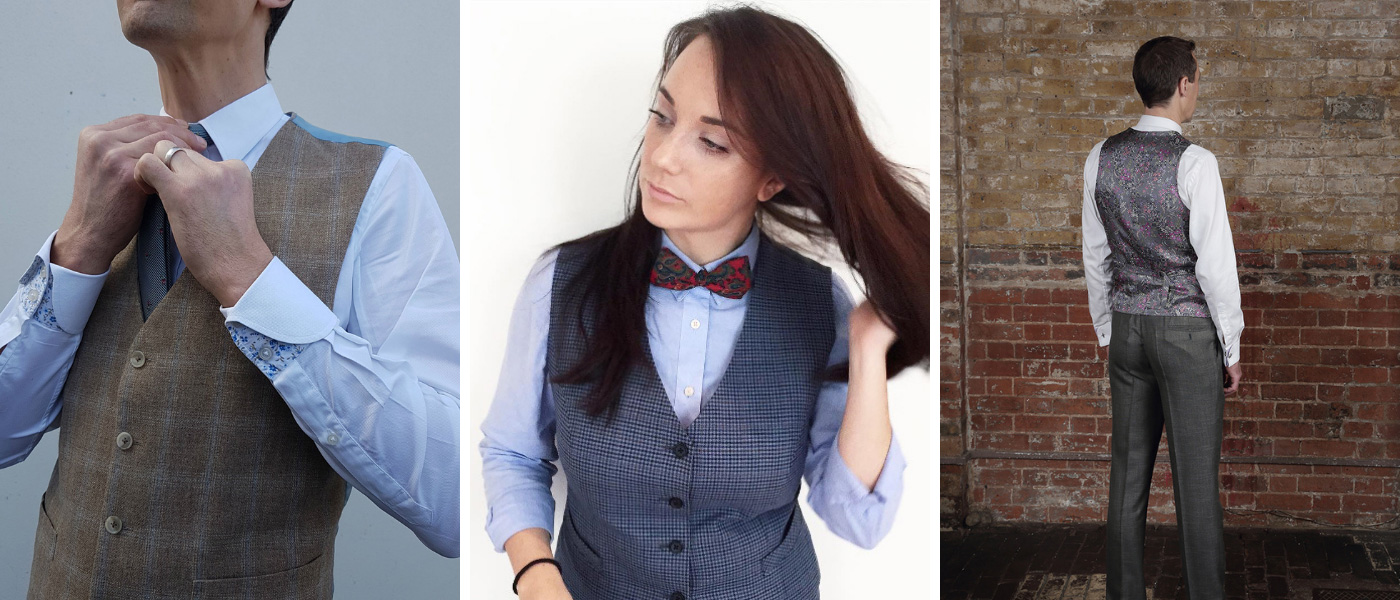 There are two popular styles of side adjusters: buckles and button tabs. Both styles draw less attention to the waistline, which is ideal if you're slightly overweight.
The buckle side adjusters are the smartest looking option. They work on a pulley system, where you pull a strap and the waistband tightens. This allows the waistband to become approximately 5cm smaller, however, the trousers cannot get any larger. Ensure that the trousers fit you when you are at your largest and then use the buckle make the waistband smaller when you need it.
Button side adjusters are still smart, however, they aren't as sleek as buckle side adjusters. They are less adjustable too. They work by fastening a tab to one of three different buttons. We recommend that you fit the trousers on the middle button and then adjust the fastening when you feel bigger or smaller.
Finally, NEVER wear a belt with a dinner suit. It will look ridiculous. Side adjusters or a plain waistband are the only appropriate options here.
Other Options
Some people prefer to wear braces, which are the most comfortable option. They have positive ease on the waist measurement, giving you room to breathe (and eat a big meal!)
The braces are attached to brace buttons, sewn on the inside of a plain waistband. The trousers are then suspended from the shoulders using the braces.
Can you change trousers from belt loops to side adjusters?
If you'd like to convert your trouser waistband from belt loops to side adjusters, it is possible.
Some tailors are able to remove the belt loops for you, using spare fabric from the trouser hem to create side adjusters, but only if there is enough fabric.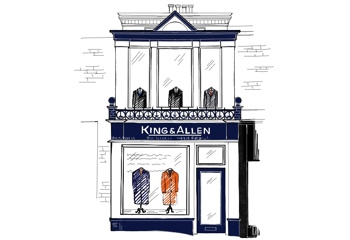 26 May 2020
Following the announcement by the Prime Minister on the 25th May, we will be reopening our Surbiton, Liverpool Street and Wilmslow stores on the 16th June.
King & Allen News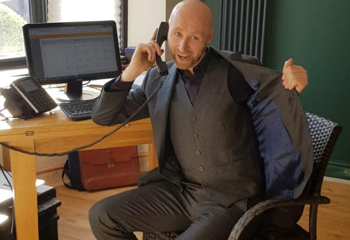 15 May 2020
We've put  together a brief guide and some resources for what to do once you've decided on a new date for your big day.
Style Tips & Advice
Weddings
14 May 2020
While we look forward to re-opening and helping you all find your fit for your special day, we also thought it might bring a smile to our follower's faces to see how some people have kept their lockdown weddings and celebrations going.
Style Tips & Advice
Weddings