Icon of the Month – Shia Laboeuf
Never far from controversy, the volatile but hugely talented Hollywood actor was in the papers again this month – accused (again) of plagiarism. Regardless of his bizarre antics, no one can deny that Shia LaBeouf has great style. Indeed, this is not his first appearance in The Stitch (he appeared as a relative unknown next to Michael Douglas in Issue 2, when we covered the Wall Street sequel). For a man with a wild reputation, his suit choices are actually quite reserved. LaBoeuf tends to favour a well cut, 2 button business suit in grey or blue, paired with a club tie – regardless of whether it's on the red carpet… or at one of his many court appearances!
Below is a selection of our favourite suits from his clearly abundant collection!
Feeling inspired? If you've seen something you like and you'd like it made for you please do not hesitate to get in touch.
26 September 2019
An increasing number of companies are adopting a less formal office dress code these days, with fewer businesses expecting their male employees to show up in a suit and tie. Instead, the new watchword is 'smart-casual'. But where does that leave the suit lover?
Style Tips & Advice
Business Style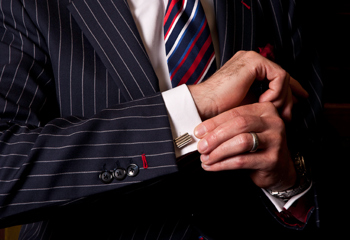 12 September 2019
The term 'pinstripe' refers to the very thin, parallel lines that run through a cloth, contrasting with the main colour. Taken at face value, it would seem to be a fairly bland description of a simple fabric pattern. But the history of the pinstripe suit is anything from bland and, indeed, the suit itself has a host of connotations attached to it.
Style Tips & Advice
Style History
27 August 2019
The new Peaky Blinders series is back with a bang and we're not just talking about the storylines. As ever, Tommy and his crew look as sharp as the razor blades the real-life Peaky Blinder gang were rumoured to stitch into the peak of their flat caps.
Style Tips & Advice
Celebrity Style
Style History